Amid today's hyperfiltered social media garbage dump, cluttered with tweaked selfies, unimaginative food photos and useless information, L.A. artist Robert Gallardo is carving his own path, bringing aesthetic vision to the somewhat routine format of the Instagram feed. In addition to bringing color and style to his own account, he's been responsible for the look of rapper A$AP Rocky's since early 2015, when Rihanna reposted Gallardo's deconstructed Instagram tribute to A$AP Yams, prompting Rocky's in-house art direction team (AWGE) to get in touch and invite him to curate Rocky's feed. Gallardo's Warholian take on social media has transformed Rocky's Instagram into a portable gallery, featuring photos of Polaroids that have been distressed and aged with IRL filters such as house paint before being scanned and uploaded to social media. Selfies and screengrabs? Hell no. When Rocky made the cover of Forbes magazine, Gallardo ripped the cover from the magazine, shredded the edges and photographed it. A scan of that photo was uploaded to the Insta feed, adding depth to a PR story and turning moments in Rocky's life into art.
Gallardo grew up in St. Petersburg, Florida. He didn't know much about his father, except that people said he was an artist; perhaps that sparked something in him, he says. He had a "creative awakening" in high school and started painting on his friends' T-shirts, "corny graffiti-style stuff, very basic," but enough to lead him into developing his own style, drenched with fragmented, deconstructed references from popular culture—the cartoons, TV logos and video-game characters he grew up with as a kid in the '90s. "I've always used popular culture as my vocabulary, my arsenal," he explains. "I take bits and pieces of things that influenced me when I was growing up and make connections to what is happening now."
He first applied his "Instagram-as-gallery" concept to his own feed by designing the way he presented his work there, always placing a white square on the two outside rows, with a photo of his art in the middle, forcing the viewer to scroll through his Instagram feed as they would a Tumblr. "There's a specific language on Instagram," says Gallardo. "Selfies or food. People taking pictures of what they're doing that night at the club. Because I wasn't speaking that language, I stood out."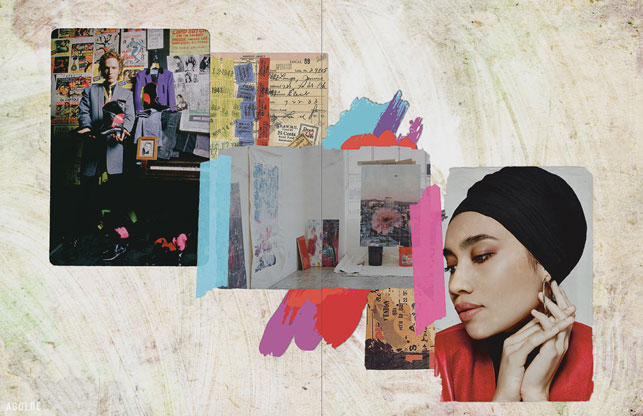 The palette of Gallardo's feed was different. His colors were borrowed from early MTV, '90s  Simpsons, specific shades of purple that were in vogue 20 years ago in graphic design. "When I was growing up, the colors really grabbed," says Gallardo. Today he takes those same colors but makes them foggier, faded. Pop-culture icons are broken down into sparse, barely recognizable echoes of themselves. A cartoon character's hair is a silhouette, burned into his psyche. "They are memories, like when you think of something and you can't necessarily remember what it looked like? I would say my pieces of art are kind of like that, like memories."
It wasn't until after he started manipulating his feed that he realized the Warhol-ish perspective embedded within what he was doing. "As an artist, I kind of just do things and find meaning in them later," he says. "I realized I was making fun of the way social runs our life." Warhol, he says, has always been a huge influence. "One of my first pieces of art on Instagram was an image of a packet of Top Ramen. That was my homage to him." Speaking of food: Gallardo launched a game on his Instagram in which social media engagement would control what he did that day. "The first one I did was a food game; I posted a design of a pizza, of a burrito and of soup. Then I said, 'Whatever post gets the most likes is what I will get for lunch today.' " Pizza got the most likes, so that is what he ate. It was his commentary on the way that peoples' most basic decisions seem, more and more, to be governed by what they see on social media. "And people actually did control what I did that day." That experiment was the inspiration for an iPhone app he created, The Adventures of Gallardo, something like a Super Mario game in which Gallardo finally transposes himself into the '90s-era virtual reality he draws on so heavily in real life.
Gallardo believes that despite the proliferation of social media—Instagram, Pinterest, Tumblr—as ways to view and showcase art, traditional physical gallery spaces will never go away. "People like getting cheap wine and seeing art. I enjoy that too, sometimes. I don't think real-life experiences are going anywhere." What he does predict, though, is a separation between old school and new school approaches, where the art-makers will separate from the selfie-takers, creating a top-shelf/bottom-shelf media differentiation that already exists in traditional media, with In Touch magazine in one corner and Visionaire in the other. He's just at the leading edge of that trend, and who knows where it will evolve to. When it comes to social media, he says, "there will always be some kids who take it to the next level."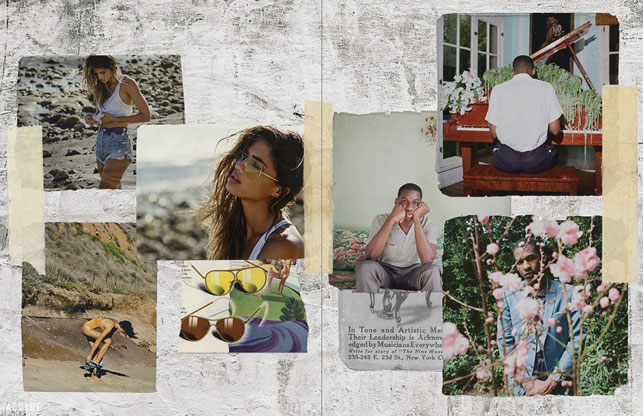 —