When recently asked to do an interview with my old friend, Ivan Hosoi, I was thrilled. We had originally met in the '80s through our sons, Christian [Hosoi] and Christian [Fletcher], both of whose stories were big and overshadowing to us mere mortals on the sidelines. This would give me a chance to reconnect and get to know more about Ivan the man, the artist and the individual.
We reminisced about his early years as a painter: After moving to Los Angeles from Hawaii in the late '60s to attend the Chouinard Art Institute (the art school founded by Nelbert Murphy Chouinard in 1921) and later receiving his master's from UC Berkeley, Ivan felt he was on his way to fulfilling his dream of being a working artist. However, as most artists soon discover, the making and selling of art are two completely different skill sets, and Ivan was not spared this lesson. With a wife and young son to take care of, he found himself apprenticing to a host of California artists who helped define the look and feel of the '60s West Coast contemporary movement. He was unsatisfied with the work and drifted into a host of odd jobs, including art transportation and handling for Gagosian Gallery for a period of time. Thinking he might have a better chance of getting onto the main stage, Ivan pursued music, but late nights took their toll, and it was soon just him and his young son, Christian, who had a boatload of drive, and the talent and charisma to float it. "Pops," as he was known to all of the young skaters, soon took a job managing the Marina Del Rey Skatepark, where Christian could skate constantly and hone his skills with consistency. Christian would go on to define '80s skateboarding as one of the pioneers of vert skating, alongside Tony Hawk.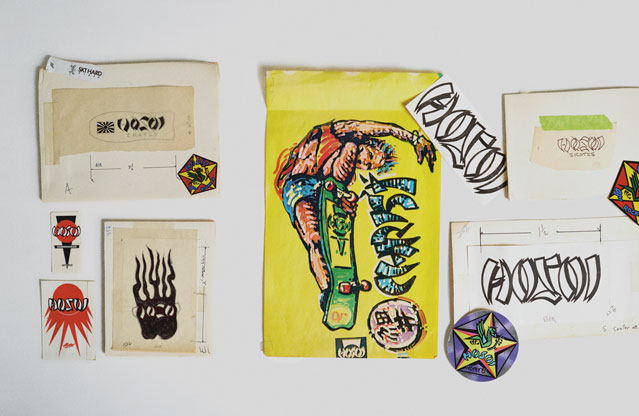 Ivan was a gift to the scene, with his soft-spoken manner, laid-back persona and artistic talent, creating murals on the wood of top pro skaters, along with posters and fliers for the skating events and Monday Night Punk Rock Concerts held at the skatepark. Skating and surfing were the physical manifestations of the hardcore music scene that was happening. No other disciplines had the same cosmic allure, and California was on the cutting edge. With a handful of radical young risk takers—from the guys on boards to the fledging photographers, park builders and entrepreneurs—"Actions Sports," as the combo had been dubbed, was on like a force of nature. Everything and everyone seemed to be aligned, as a great shift in our collective cultural experience radically changed perceptions and shook up the norm. Small companies were popping up everywhere to serve the needs of young consumers who wanted to identify with the rebellious trends set by their heroes, who were being promoted through the powerful new video medium along with the editorials and ads in industry magazines.
This wasn't the polished Madison Avenue advertising of fashion. This was pure street—rough and raw. It was the awe-inspiring action in the shot and the bold board graphics that proclaimed the rider's allegiance and pushed sales to an ever-expanding youth market. Man had taken flight with the Christ Air, Stalefish, Judo Air, etc., and so many people jumped in to manufacture everything from clothing and shoes to skateboards and accessories that the bottom soon dropped out. For the many who were hooked on the exhilarating, fast-paced lifestyle—and the few who had used their companies to launder ill-gotten gains—the party was over.
After all tsunamis, where everything is flattened, there appear small signs of life, and little by little, the momentum builds. From backyard pools with a few tight friends to the Converse Coastal Carnage in Huntington Beach and thousands in attendance, most of the corporate sponsors now publicly traded on the New York Stock Exchange, the two bastard children of mainstream sports have matured and today support very decent livings for their current and some chosen heroes of the past. On one hand, I think it's fantastic. On the other, it's no longer about a group of skaters or surfers with a dream, or a dad drawing art on his son's boards—images that would define the attitude of the time and be seen around the world, from the favelas of Brazil to the shantytowns of South Africa. Ivan's art communicated a culture of cool in the universal language of symbols, and it still influences style today, with brands like Supreme and Vetements referencing his work.
When Ivan spoke with some sense of nostalgia about being an apprentice and not being the painter he expected to be, I had to say, "Congratulations! Way to go! Very few artists will ever achieve the goal of creating a few indelible marks that will live on to inspire and transcend the hearts and minds of future generations. You have achieved this in the most humble way, almost as if you were unaware."
This is just part of the great charm of my friend, Ivan Hosoi.
—