EIGHTY-NINE: Where did you grow up?
Empress Of: I grew up in Pasadena, California.
EIGHTY-NINE: But your parents moved to California from Honduras. Do those roots play into your music or creative process?
EO: Yeah, definitely. Well, I make a lot of music in Spanish, and when I first started making music I was super into sampling like Central American or South American music, like cumbias. I grew up listening to a lot of music like that.
EIGHTY-NINE: Do you ever go back? It'd be so cool for you to play music there.
EO: I haven't gone back since I was a kid, but yeah, I would love to [perform there], but it's really, really dangerous to go to Honduras.
EIGHTY-NINE: There are so many Hispanic people in the U.S., but there aren't really many big Hispanic figures in mainstream music here, and definitely not in experimental electronic music. How does that affect you as a musician?
EO: I mean, that's one of the things that motivates me to make music. I'm a first-generation American, and there aren't—I mean, I don't know anyone from Honduras that makes electronic music. In New York, there are like 300 people I know that make weird stuff, but not from where I come from, and I just want to change that.
EIGHTY-NINE: What was your first introduction to music?
EO: I started playing the piano when I was 6, and then I started listening to Björk when I was 13, and that was the first electronic music I had ever heard. I was super inspired, and that sort of spearheaded me to want to write and make electronic music.
EIGHTY-NINE: There are so many aspiring musicians. In such a saturated market, what keeps you motivated to create?
EO: I guess just being able to test myself. Putting out a record last year was a challenge because I'd never made a huge body of work like that. But then also deciding to produce it, write it and record it all myself was another challenge, so yeah. I don't know, to me, that is a huge motivation.
EIGHTY-NINE: And whom do you look to for inspiration?
EO: I'm really inspired by people who are constantly evolving in their career, people who take risks or do things that other people might be scared of. Like fucking M.I.A., like right now, I am super, super inspired by her. She had like a mainstream hit and was super in the pop world, and she could have just taken that and like gone totally down that route, but she's like a political artist. I respect her so much for just making art that she wants to make. And definitely Björk, Kate Bush, David Bowie, Kanye West— artists that just do whatever the fuck they want to do, whether they think it's going to be commercially successful or not.
EIGHTY-NINE: What are you currently working on?
EO: Well, I moved to L.A. last week from New York, and touring is going to be really crazy soon, and I only really have a month where I don't have anything to do, so I just rented a house in Silver Lake so I can just go crazy and work on my next album. I just kind of go nuts by listening to loops of music. Hopefully, I'll come out with like 20 to 30 ideas that I can turn into a record.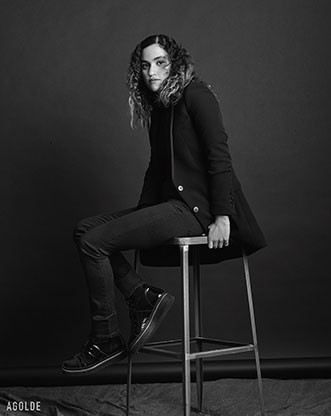 —