Name: Katie Moore
Nickname: Katie Mo, Mama Mo
Age: 19
EIGHTY NINE: Where did you grow up and where are you living now?
KATIE MOORE : I grew up in Houston, TX, and I just moved to New York. I got a little place in Brooklyn. I lived in a model's apartment for like 4 months, and then I was subletting and couch surfing, but I finally got my own place!
EIGHTY NINE: Any new places you've discovered in Brooklyn you love?
KM: There are amazing coffee shops! And one of my favorite things about Brooklyn is that everything is locally owned, you're not going to find a Starbucks. It's really cool. I love this place called Supercrown. Their coffee is so good.
EIGHTY NINE: What's the #1 thing you'd recommend someone visiting Houston to do while they're there?
KM: Definitely go to the Houston Museum of Art, and eat as much of the amazing cuisine as possible. Not even just the typical barbecue, Houston has a melting pot of culture and cuisine that's incredible. There's a restaurant I really like called Ruggles Black, and 75% of their menu is paleo. It's Indian fusion, and it's insane.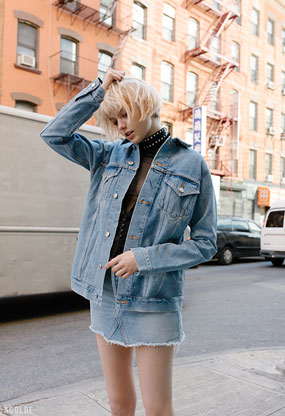 EIGHTY NINE: How did your modeling career begin?
KM: When I was 17, I decided to take a gap year in high school because I was told I could potentially do this, so I wanted to give it a try. Things started out really slow, but after my first fashion week things kind of blew up, and it's been crazy ever since.
EIGHTY NINE: What were your career aspirations growing up?
KM: I've always wanted to be an actress, do something in musical theater.
EIGHTY NINE: Who's your favorite actress?
KM: At the moment, my favorite actress would have to be Natalie Portman or Emma Stone.
EIGHTY NINE: You had a huge last year, what have been the most surreal moments of your career so far?
KM: Well opening for Alexander Wang was a huge one, shooting for American Vogue, walking Chanel, and just anytime I'm on a plane heading somewhere–I'm 19 years old, and I'm doing this?! It can be stressful, but it's such an incredible opportunity.
EIGHTY NINE: Your Instagram is full of amazing moments, but your captions are always something humble about how grateful you are and how talented the team you work with is–when you're working in such a glamorous world, how do you stay grounded?
KM: Well, I believe what you put in life is what you'll get out of it. And it is really insane how much work each person puts into a shoot. Everyone involved has such an important job, and I just always want to make sure to thank them.
EIGHTY NINE: What's something you wish everyone knew about the fashion industry?
KM: I wish everyone knew that yes, it can be really brutal, but it's mostly been so rewarding because I've met met so many incredible, driven, talented people through this industry.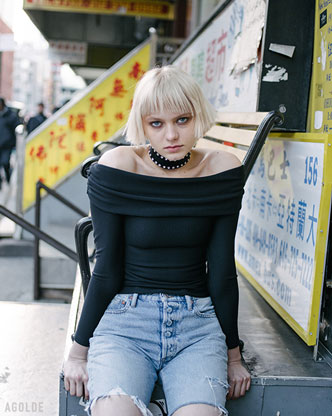 EIGHTY NINE: You're such a busy girl! What do you like to do when you have time off?
KM: Definitely hang out with friends, I like seeing shows, taking dance classes. I like anything creative.
EIGHTY NINE: What's the best beauty tip you've picked up?
KM: That skin prep is definitely most important! If I don't have a ton of lotion on, then the makeup will not be as real looking–foundation can look really cake-y if you're skin isn't right.
EIGHTY NINE: What's your skin care routine?
KM: I have this product by Milk Makeup that's a 'cooling water stick'. It has caffeine in it, oils, and basically I put it in my freezer, and in the morning, I rub it on my eyes so it kind of wakes me up and helps with any puffiness. And then there's a toning spray I like called Caudalie that has glycerin in it so it makes your skin really supple–if you just put moisturizer on after that you're good to go.
EIGHTY NINE: You dye your hair quite a bit (and it always looks amazing)—any advice for how to keep dyed hair healthy?
KM: Yeah, I'm actually at a hair salon now! I'm going back to red, like bright red. To keep my hair healthy, I do a lot of hair masks, like weekly, and I use a shampoo that doesn't have sulfates in it so that the color lasts longer. But even just leaving in conditioner for a really long time helps!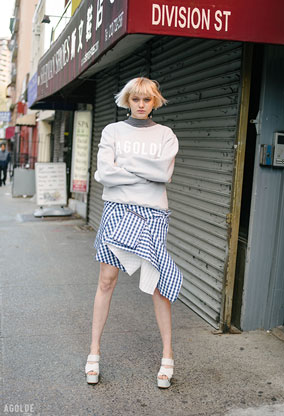 EIGHTY NINE: What do you hope to accomplish in 2017?
KM: There are certain photographers I'd love to work with like Steven Meisel, or Karl Lagerfeld would be amazing. I'd love to do a beauty campaign or fragrance campaign, but most of all I really want to start going into acting and see what I can do with that.
EIGHTY NINE: What was your favorite AGOLDE piece that you wore in the shoot?
KM: There was an amazing pair of cropped flares on set – I'm so all about those! And the mini skirts were really, really cute.
EIGHTY NINE: And what's your absolute favorite meme right now?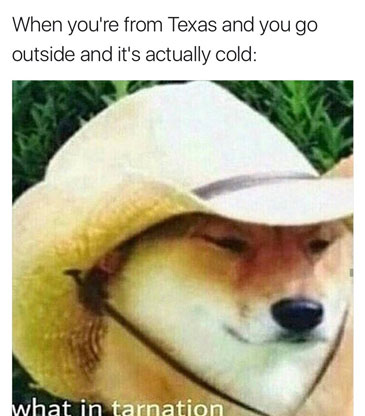 Fashion Credits
Look 1- Hoodie: AGOLDE 'LEGACY' IN ASH BLACK Beret: X GIRL X MADE ME Earrings: DOUBLE DISCO
Look 2- Top: TOPSHOP Choker: ZANA BAYNE
Look 3 – Top: OPENING CEREMONY Waistcoat: VINTAGE JEAN PAUL GAULTIER Skirt: AGOLDE 'QUINN HI RISE MINI SKIRT' IN DEVOTEE Choker: ZANA BAYNE Jacket: AGOLDE 'JESSIE' IN BROOKLYN
Look 4 – Top: TOPSHOP  Shorts: AGOLDE 'JAMIE SHORT' IN CRUSH Choker: ZANA BAYNE
Look 5 – Top: H&M Sweater: AGOLDE 'HARROW' IN SOFT GREY Skirt: MARQUES ALMEIDA Earrings: DOUBLE DISCO Shoes: VINTAGE MAISON MARGIELA
—