It's the middle of New York Fashion Week, and one would think that Patricia Manfield—the social media personality behind the blog The Atelier and the Instagram account @patriciamanfield—would be in the thick of things, running from show to show, sitting front row and getting snapped by street-style photographers in between. But instead, the 24-year-old Manfield is holed up in a Hell's Kitchen apartment—her home base for the week—recording tracks for her upcoming album.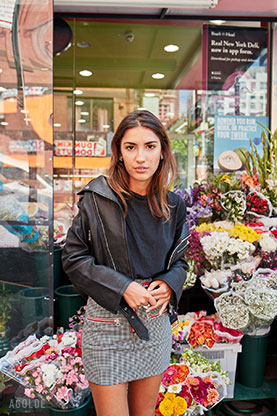 "Do you ever feel like you woke up in the morning and you were in such a rush, and you end up looking so cool, even though you got dressed in five minutes?" asks Manfield. "It happens all the time. I just wing it."
That effortless way of going about things is exactly how Manfield, who opened the door wearing blue jeans, a white T-shirt and those Gucci Princetown leather loafers—you know, the ones with the fur lining—has had the ability to attract some 265,000 followers on Instagram. Manfield's following came to her organically, first through Facebook, where people gravitated to her beauty and style, asking where she got her pieces. Then, some of her photos were posted on Tumblr, and she realized that there may be something there when she saw that each photo would get hundreds of thousands of reposts. So her equally photogenic boyfriend, Giotto Calendoli, bought her the site theatelier.me.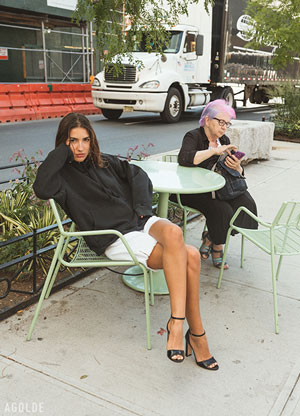 Then she went to her first fashion show in September 2012. A friend had given her an invite to Roberto Cavalli. For the occasion, Manfield picked an elegant yet masculine look, an Armani tuxedo, and the street-style photographers fell for the beautiful bait. A style star was born. "I was like, what am I doing?" she recalls thinking.
Manfield, who was born in Moscow and currently lives in Milan, says she had a "cool obsession" with photography in high school, where she shot and styled all of her friends. She enrolled in courses in fashion design, photography and marketing at the prestigious Central Saint Martins—the alma mater of Stella McCartney, Alexander McQueen and John Galliano—in London. After dipping her toes in, she didn't feel that design was her thing, so she decided to return to Milan to pursue marketing at Istituto Marangoni, where she founded her blog with Calendoli. "I feel like business is just as creative, because in a way management is just as creative for brands nowadays and it's a good place," says Manfield.
Manfield doesn't take the whole social media thing too seriously; she maintains she never stages photos and that everything is natural. "I hate being on my phone the whole time when I'm actually doing something fun," says Manfield, who has also become more careful about sharing her relationship with Calendoli with the world. "We used to share a lot of content together before, where now it's kind of private."
The style personality, whose parents are classical musicians, realized she had a different calling after she posted a video of herself doing an acoustic rendition of Rihanna's "Bitch Better Have My Money" on YouTube. Harper's Bazaar took note and published a post about it. "I write a lot about what I see," says Manfield, who grew up sitting on her father's lap while he wrote music and is herself a self-taught pianist. "I observe people a lot." Although she doesn't officially have a record deal, there's been a lot of interest; she's currently in negotiations and plans to release her first single in 2017.
Surprisingly, she also plans to put the brakes on her blog this winter. "I'm getting out of it," she says. "Artists are influencers. It will be weird for me to say I'm done with fashion because they're so close."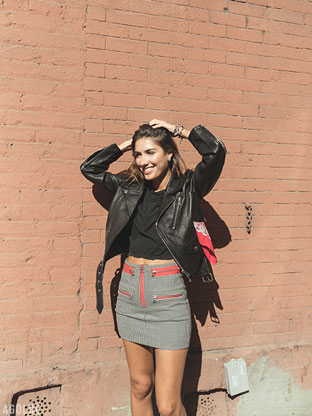 Fashion Credits
Look 1- Jacket: KATE SPADE Tshirt: AGOLDE 'MARTINE' IN VINTAGE BLACK Skirt: ISABEL MARANT Jewelry: JENNIFER FISHER & VINTAGE
Look 2- Sweatshirt: AGOLDE 'LEGACY' IN ASH BLACK Jewelry: JENNIFER FISHER & LOUIS VUITTON Shorts: AGOLDE 'JAMIE' IN STRAIGHT Heels: CHLOE
Look 3- Jacket: KATE SPADE Tshirt: AGOLDE 'MARTINE' IN VINTAGE BLACK Skirt: ISABEL MARANT Jewelry: JENNIFER FISHER & VINTAGE
—