For Miya Folick, the dream of a young girl picking up a guitar, humming some disjointed lyrics alone in her bedroom and eventually landing on stage in front of a crowd of screaming fans appears to have come together with ease. Upon returning home to Southern California after a few semesters at NYU, she found herself spending more time messing around with the guitar and writing lyrics than on her original plan to study acting. Fast-forward a few years and the poignant vocals and melodic chords from her first EP, Strange Darling, are warming up the stage for acts like Sleigh Bells and Yeasayer. Even still, Folick finds it hard to believe the fairy tale came true. "I think it's still dawning on me that I am a musician," she admits.
EIGHTY-NINE: What kind of musicians influenced you growing up?
MIYA FOLICK: I listened to a lot of the music that my parents listened to—my dad was very into Bob Dylan, Joni Mitchell and Crosby, Stills and Nash.
EIGHTY-NINE: How would you describe your music?
MF: I usually say it's emotional, intense, grunge ballads.
EIGHTY-NINE: You studied acting for a while in New York and L.A. Do you take any of those skills on the stage to perform?
MF: I'm sure I do, but I don't really do it consciously. At NYU, because I was in a musical-theater program, we took a "performing the song" class, and I think that just informed the way I think about everything more than just thinking about performing. It really made you break down a song and think, "Why do I say this? Why do I say it twice?" If I'm repeating it, then there should be something different in the performance of the second time we say it to give it purpose and meaning.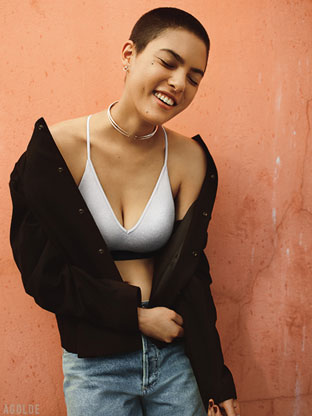 EIGHTY-NINE: As a self-taught musician, what is the biggest challenge you have faced performing in front of people?
MF: I think the first obstacle is believing that it's possible. And I think I spent probably too long playing my songs to myself in my bedroom, instead of just putting them out there. I was waiting until I felt comfortable saying that I was a musician, and then I realized, "OK, you're probably never going to feel comfortable saying that, so just go do it." And it's true, because I still feel weird saying it. I think sometimes it's hard to be so aware of yourself—as an entity, as an artist. But I think I felt that way even before I was a musical artist. I was always kind of uncomfortable just being a person.
EIGHTY-NINE: What is the best crowd you've played for?
MF: Oh, man. We played South by Southwest this year, and our second show was at this co-op—it was a college party. We were pretty positive that nobody was going to show up, but right before we started playing, the place just got super-packed. It was just a cafeteria with crappy sound, and it was really, really loud, but we had the best time. I think everybody in the band at some point fell over. We were not holding back at all. That crowd was awesome, and so with us. I think we usually prefer to play more casual environments like that, or a college party, or DIY spaces. But then, venues usually have better sound and better monitors, so it's a give and take.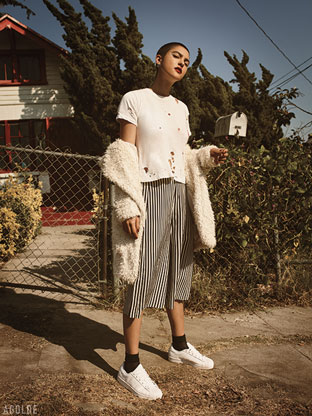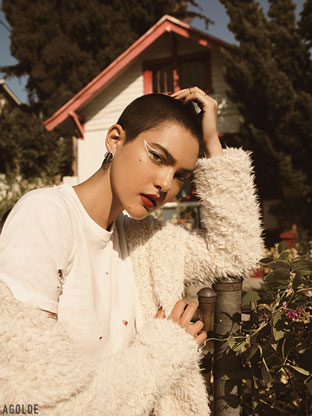 EIGHTY-NINE: As a new artist, how are you using social media?
MF: I find that it does force you to think about the images that you relate back to your project in a way that's useful creatively, as well as just for getting your name out there. Facebook and Instagram I use a little bit more to post about my project, and then Snapchat I just do whatever stupid thing I feel like doing. It's probably the most unfiltered, though I try not to filter my Instagram or my Facebook very much. I think everyone just naturally filters themselves anyway, in everyday life. So, if your social media is an extension of yourself, then you're going to filter that too.
EIGHTY-NINE: The visuals on your latest single, "Pet Body," are really gripping. How do you find visual collaborators to work with on your projects?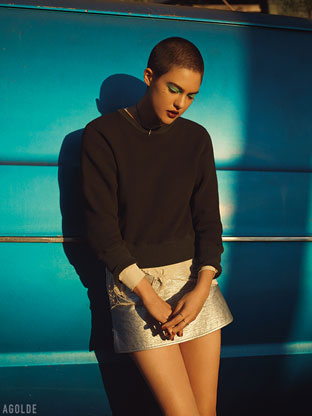 MF: I meet a lot of people on Tinder. I have probably matched with, like, 80 percent of artists in Los Angeles. And I've worked with a lot of them: I met my bass player on Tinder. I met a guitarist who played on the first EP on Tinder. I met somebody who directed one of my older music videos on Tinder. I met the guy who did visuals for the "Pet Body" release party on Tinder, and we never even met. It's just an interesting way to find people in your city who are doing cool things, and I usually don't even talk to them on Tinder. I'll stalk their Instagram, think it's cool and then just start having an awareness that they exist in the same city as me. And then, "Oh, I need somebody to do this thing for the show." It is a good resource. I don't know why anybody uses it to date. Everyone should just use it to meet other artists.
EIGHTY-NINE: You have been very adventurous with your hair. What's next for your look?
MF: I think I don't have what I find to be a typical attachment or reverence toward one's hair. Probably until I was 20 or so I was a hair purist. I never dyed my hair. It was always very long, brown, and I had this, like, strange pride in having natural hair. And then I started realizing that it's fun to play around, and when I was bleaching my hair, I'd have to change it a lot, because it's not at all my natural hair color, so I'd just have to keep dyeing it and bleaching it, and at a certain point I just felt bad for my hair. It was so dead, so I shaved it off. The buzzed head is pretty nice. It's very convenient. I've seen some amazing mullets, but I don't think I could ever pull one off.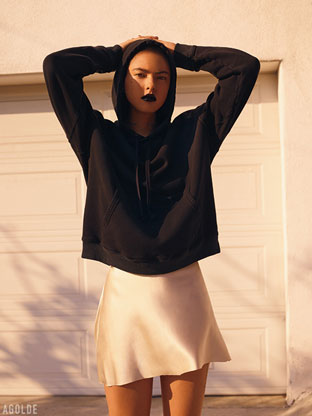 Fashion Credits
Look 1-  Jewelry: LUV AJ + VERAMEAT Sweatshirt: AGOLDE 'LEGACY' IN ASH BLACK
Look 2- Jewelry: LUV AJ Bralette: CALVIN KLEIN Jacket: FAAN Jeans: AGOLDE 'JAMIE' IN DAKOTA
Look 3- Jewelry: LUV AJ + VERAMEAT T-shirt, Jacket, & Socks: STYLIST'S OWN Trousers: CLOSED Sneakers: ADIDAS
Look 4- Jewelry: LUV AJ + VERAMEAT  T-shirt & Jacket: STYLIST'S OWN
Look 5- LEFT: Jewelry: LUV AJ + VERAMEAT Sweatshirt: AGOLDE 'ANA' IN ASH BLACK T-shirt: RICK OWENS Skirt: COURREGES
Look 6-  Jewelry: LUV AJ + VERAMEAT Dress: CURVE Sweatshirt: AGOLDE 'LEGACY' IN ASH BLACK
—