For 25 years, while the rest of the world slept, REVOK spent his nights staring at walls on streets around the world, and even spent some nights staring at them from inside a prison cell—an occupational hazard of his particular mode of expression. Currently, he spends his nights in a windowless studio in California, transposing years of nocturnal wanderings onto giant painted canvases. Abstract monuments to a feral life, they're as vivid as a 6 a.m. sunrise, inspired as much by the work of modernists Ellsworth Kelly and Frank Stella as his life on the street. "Graffiti is exploring yourself and who you are," says REVOK, real name Jason Williams. "As juvenile, irrational and immature as it can be, as obsessed with ego, graffiti can create something amazing."
Williams grew up in a blue-collar family in Southern California, entirely removed from the art world. "Nobody knew anything about art. We didn't go to museums. Nobody had any kind of college education." His dad, who worked in construction, moved the family so much that he never once completed a school year. He spent his entire childhood being the new kid.
However, at age 13 he got into graffiti. It was a way he could control his identity and prove himself in a world where it didn't matter where you come from, as long as you were up. "Graffiti transcended castes and barriers," he says. "I quickly realized that I wanted to do it more and better than anyone else." Graffiti became his life, and each day was spent doing whatever was necessary to make sure he could spend his life traveling the world painting.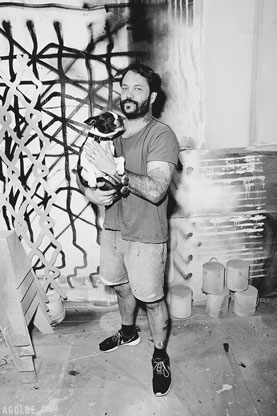 Twenty years later, in the early 2000s, he was one of the biggest names in graffiti. But he found himself asking, "Why am I still doing this? What am I working toward?" Many of his peers had been transitioning from the streets into the studio—he wasn't sure that was what he wanted to do. "It just felt like putting a tiger in a cage. Graffiti, once you take it out of the streets, it loses its potency. The only reason it is interesting is when it is a crime—it doesn't have the same relevance when it's not that."
So, instead of trying to re-create his style inside the studio, he "sampled the environment" and made art out of that. The wood. The cement. The fragments of clapboard houses. Assemblage pieces scavenged from the detritus of the streets. "I wanted my hand not to be the focus," he says, "the gestural elements of my mark-making. The graffiti thing was so embedded and intuitive, and the way I make marks has such a distinct flavor to it … I didn't want it to be about my style or aesthetic anymore."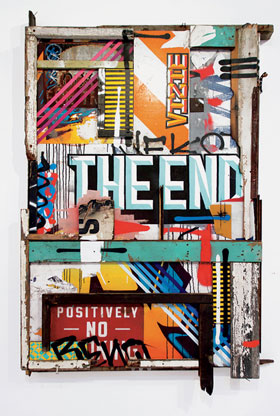 His first assemblage piece was a massive found-object installation he created for Miami Art Basel by scavenging the streets of the Wynwood District. Made of wood and steel and weighing over 3,000 pounds, it was immovable and as vast as the city itself, drawing stylistic comparisons to Robert Rauschenberg's assemblage. Excited, Williams wanted to take the idea further.
He had also become disillusioned with life in L.A.; feeling frustrated and uninspired by what it took to survive there, he decided to move. "I just wanted to have the freedom to spend my time exploring my own ideas and not have this financial weight controlling me."
On the recommendation of a friend, he visited Detroit. It was the middle of February, "the dead of winter, with two feet of snow on the ground … and I fucking loved it," he says. "I quickly realized it was the perfect place for me."
The epicenter of American urban decay, Detroit presented Williams with endless supplies of inspiration and material. On top of that, "It was cheap as shit and absolutely lawless. I could go there and do a minimal amount of work to cover my necessary living expenses and still have the freedom to spend my time doing what I wanted. It was in a really gnarly state of decay, but out of this really shitty situation there was this rebirth happening, this opportunity for positive new things to happen."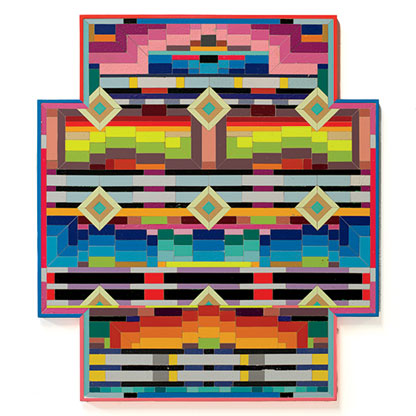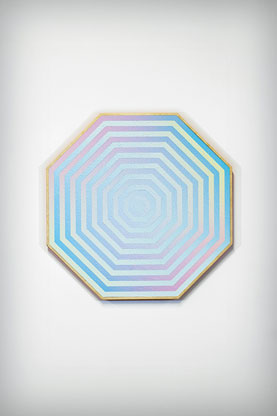 Indeed, while he was in Detroit, miraculous things happened. He reinvented his creative style entirely. For the first time in his life, in his 30s, he went to a museum. At the DIA (Detroit Institute of Arts), he came upon the work of Frank Stella, Ellsworth Kelly, Franz Kline, Robert Rauschenberg, Clyfford Still—American modernists, minimalists and abstract artists whose work truly captivated him. "These big, massive, powerful paintings … I had never seen any of that stuff before. It had a tremendous impact on me, and since then I have been playing catch-up and just trying to learn as much as I can."
The birth of his daughter prompted his move back to L.A. in January of 2014. The new geography required a second reinvention: "Ethically, morally, I couldn't continue making work that was an ongoing conversation about Detroit, without living there. So I stopped."
Back in L.A., for the first time in his life, he picked up a paintbrush and painted on canvas. For Williams, the most basic skill in art-making was both revolutionary and a return to making work that was focused on his hand, in a style far enough removed to feel new. "I've never done anything so obsessive. I've never stripped down my ideas to such simple language before," he says, his excitement palpable. "Shifting my focus from being an old jaded graffiti guy to a completely naive inexperienced beginner in a studio has been a second childhood for me. I get to be knocked all the way down to the bottom of the totem pole again, and I get to be enthusiastic and eager. The best thing about life right now? That I get to be a toy."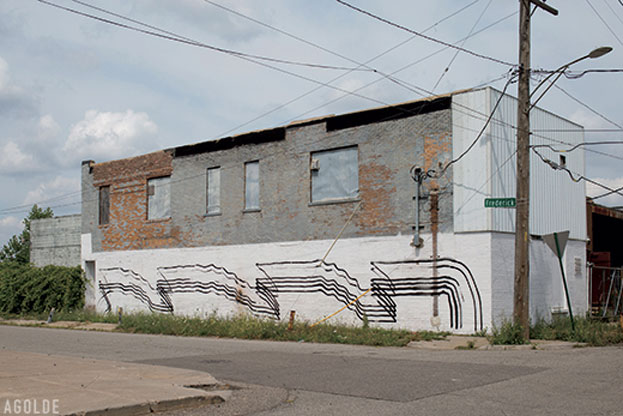 —