Name: Blake Hardy
Age: 30
EIGHTY NINE: Where did you grow up and where are you living now?
BLAKE HARDY: I grew up in Cincinnati, Ohio, and I live in Atwater here in Los Angeles.
EIGHTY NINE: What's the number one thing someone should do if they're visiting Cincinnati?
BH: Start with Findlay Market—it's the oldest open-air farmers' market in the country. Then go check out some of the food and music scenes in Over-the-Rhine. It's called that because it was a German immigrant neighborhood, and you would have to cross over this bridge to get into the neighborhood from the Clifton part of Cincinnati, and so they would call that crossing over the Rhine, like the river in Europe.
EIGHTY NINE: What do you crave from back home?
BH: Cincinnati is known for its chili, especially Skyline chili. It's kind of sweet—the secret ingredient is a little bit of cinnamon and cocoa. Definitely try it "three-way"—that's what we call mixing spaghetti, chili and cheese all together.
EIGHTY NINE: And what are some of your favorite places in L.A.?
BH:My favorite museum would be the Autry. It's such a cool crossover of both history and Hollywood. And then my favorite restaurant is a sushi place called Shibucho. It's a tiny hole in the wall. My fiancée and I found it on Yelp; the first review that came up was "the fish here come from water shed from God's tears," so we were like all right, let's go …
EIGHTY NINE: How did your modeling career begin?
BH:When I was 19, my uncle met this modeling agent who was based out of Ohio. One day he called me and was like, hey, why don't you go meet this agent? I went and met him, and the guy signed me. A month later, I got my first contract and moved to Thailand for work, then to Singapore, Miami and finally L.A., with a brief stint in Paris.
EIGHTY NINE: Before that, what were your aspirations growing up?
BH: I originally went to school for fine art painting, but dropped out to give modeling a chance. I still paint now, but I never can finish. I still very much consider myself an artist, though.
EIGHTY NINE: Did you see Zoolander before you became a male model? What surprised you when you actually started working in the fashion industry?
BH: Love that movie. There's definitely a lot of stereotypes that ring true, but overall the industry is not as snooty as people think. Stereotypes exist for a reason, but I think everyone in the industry is pretty damn friendly.
EIGHTY NINE: Any surreal career highlights?
BH: I shot Lady Gaga's very first music video: "Just Dance." They had me come do this one key scene where I push her up against a wall. The surreal part wasn't shooting it as much as seeing it at a bar at home in Cincinnati and all my boys pointing me out to all the girls at the bar. Got a lot of attention that night. It's kind of a cool thing when people think you're something bigger than you are.
EIGHTY NINE: What are some key things that you've learned from just working in the world of looking cool?
BH: Always wear clean, nice underwear. It's a solid investment, guys. Just get yourself a good pair of fitted briefs. Big, baggy boxers don't ever look good under pants.
EIGHTY NINE: We appreciate you doing that for all of your AGOLDE shoots. Speaking of, do you have a favorite pair of AGOLDE's?
BH: I got to say these Ferg jeans that I got from his first capsule have served me very well. I love these things. They're not over the top, and the distressing seems natural. There's a fine line between being tacky and being like, damn, there's some age to those jeans.
EIGHTY NINE: What's something that you wish everyone knew about modeling?
BH: It's not as glamorous as it looks. It's a lot of hard work and a lot of passionate people really trying to create something they believe in.
EIGHTY NINE: What advice would you give to someone who wants to be a model?
BH: Go to school. Have a hobby. Write. Whatever it is you enjoy, do that, and if you can also model on the side, cool. To make it your end-all and be-all is a little shortsighted.
EIGHTY NINE: Do you have a side hustle?
BH: I buy and sell vintage clothing on pastimeparadise.co, and I do a bit of styling and creative-direction work.
EIGHTY NINE: Any goals for 2017?
BH: I hope to get a physical location for my vintage hustle. That would be really nice.
EIGHTY NINE: Do you have a favorite Instagram you count on to make you laugh in the middle of the day?
BH: I've never surfed in my life, but one of my favorite accounts is @Kook_of_the_day, and I love @overheardla…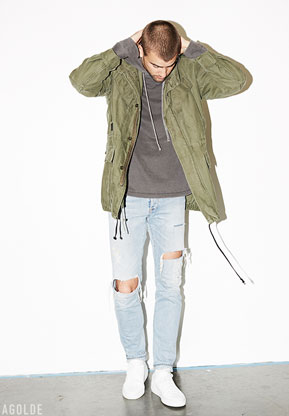 —