Fremantle, a satellite town of Perth in Western Australia, is one of those magical places. Much like Seattle in the 1990s, its relative isolation helped it give birth to its own sound, whose chief flag bearer is Tame Impala, arguably the biggest band in 21st-century psychedelic rock.
Alongside them every step of the way has been Jodie Regan, their longtime manager and a legend of the Fremantle music scene. One of just a handful of successful female music managers in the business, she got into management for all the right reasons—she loves music and the people who play it.
Rewind to Fremantle in the 1980s. Regan was 16 and had just started going to shows. She fell extra-specially in love with a local psych-rock band called the Book of Funk. We do not know where they are now, but it introduced her to a world that she could never bring herself to leave. "It was just really fun," she recalls. "Everyone was around the same age, and we all became friends." She helped out the Book of Funk whenever she could. "I'm not an artist, but once I fall in love with someone's art, I become their number one cheerleader and do whatever I can to help," she explains.
In 1992 she moved to Osaka, Japan, became a hostess ("it was very innocent—basically pouring drinks and singing karaoke") and developed another important skill that would later serve her well in the music business—namely, how to drink. "Strong drinkers were thought of as good workers," she laughs. She fell in love with a talented Japanese tattoo artist and before long found herself assuming the role of his manager. "He was the first artist I truly managed, although at the time I had no idea that's what I was doing," says Regan. "I was just his girlfriend, taking care of his business."
After six years in Japan she moved back to Fremantle and got herself a job tending bar at the Norfolk Pub, a 600-person bar-restaurant. She quickly rose through the ranks from supervisor to manager—again, excellent training for band management. "Managing a pub, you really have to think on your feet," she says. The turning point came when the pub owners decided to turn their basement into a music venue." They said, 'This is yours, Jodie.' " It became a hub for the local music scene, and local acts would increasingly turn to Regan for advice on their sound and how to build their careers. Before long, she found herself the unofficial high priestess of the Fremantle indie scene.
One night, a Monday (she still remembers), she went to a local open-mic show, where a "crazy" band was playing. "I was like, wow, who are they?!" They were a band called the Electric Blue Acid Dogs, who later became Mink Muscle Creek. These dreamy, far-out musicians would form the core of her musical family as it still exists today. Kevin Parker from Tame Impala was the drummer (he was studying astronomy in college at the time); Nick Allbrook from Pond (another band she manages) was the lead singer; Joe Ryan from Pond was also in the band. "They are the center of everything," says Regan.
She started managing all of them, including Kevin's band the Dee Dee Dums, which would eventually change its name to Tame Impala. She put their tours together, arranged for her bands to rehearse in the basement space, booked shows, set up a recording space in the venue. "I never expected to make money managing them. It was a labor of love. Meanwhile, I could still continue to work at the pub and get paid. It was perfect." Then, in 2007, a record label called Modular, known for launching acts like Wolfmother, Presets, Avalanches and Cut Copy, caught wind of Tame Impala on MySpace. "Kevin told me, 'I've been sent this message by this dude from this label,' so we checked it out and I said, 'I think it's real.' "
Regan and the band flew to Sydney and played a showcase at a venue at 3 p.m. "Just the label people and the band … it was so awkward. But the label were like, that's that. And then life really changed. So much." Tame Impala's self-titled EP came out in 2008, launching international careers for Regan and her musicians and putting Fremantle firmly on the indie-rock map.
In 2013, Regan shifted her management company and label, Spinning Top, to Los Angeles, where she could better serve the global careers of her Fremantle bands as well as a bevy of talented up-and-comers from around the world. Her hands are pretty full these days—long gone are the evenings where she'll find herself at a random open mic. But her advice for artists, in music or otherwise, is the same as it ever was. "Know who you are, stand by it and work with people who understand it. Don't change things for the wrong reason. Never abandon your vision because someone says 'I'll give you 50k'—that won't make for a long and fulfilling career."
Regan admits she misses home sometimes. You can take the girl out of Fremantle, but you can never take Fremantle out of the girl. "We're very proud of the fact that we were in such an isolated place and could still get it done," she says. "It was my home and always will be."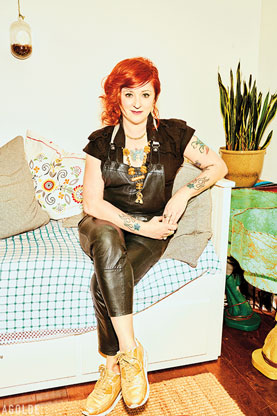 —