Bone breaking, or flexing, is a style of dance that came from the streets of Brooklyn by way of Jamaica, and is characterized by unimaginable contortionist movement. Meet dancers, Nugget, Martina, and Madeline, three bone breakers who have made a career with their extraordinary abilities…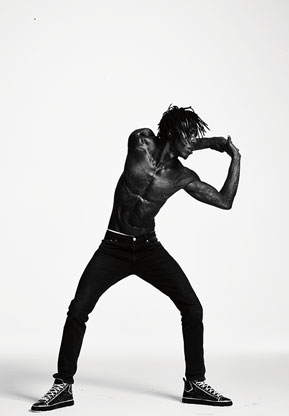 Adedamola "Nugget" Orisagbeni
If you're a fan of the dearly departed MTV show America's Best Dance Crew, you may recognize Adedamola Orisagbeni. As a member of the Brooklyn-born Ringmasters, which competed in its third season, he twisted himself into impossible shapes to a thunderous hip-hop soundtrack, beefed up with sound effects that mimicked the crunching of human bones. The Ringmasters were eliminated in episode 4, but not before giving audiences an eye-popping display of flexibility and rhythm. If you were paying close attention, though, you probably know Orisagbeni by another name: Nugget. "When I was little, I had a small body and a big head, like this character Jimmy Nugget from a kids' TV show," he says. "My homeboys started calling me Nugget. I said, 'Stop calling me that,' so they said, 'All right. We'll just call you Nugget.'"
With his moniker solidified, Nugget made his way into flexing via Brooklyn's dancehall culture. "Back in the 90s, the reggae culture was big there," he says. "One day, I went to a block party and just started doing those dancehall steps. Everybody was like, 'Yo. This kid is dope.' So I kept doing it." He stepped things up after joining a group called Hyperactive. "Seven of us from the neighborhood started creating dance styles off movies we'd seen, like Drunken Master with Jackie Chan, or Dragon Ball Z," he says. "In the movie Blade II, there's a part where this guy breaks his arm. I thought, If I started dancing and my arm broke, that would probably be dope." That was the origin of bone-breaking—a style Nugget created when he was 14.
After Nugget and his crew made their way onto ABDC, he was signed by an agency, and moved out to L.A. seven years ago. Since then, he's been in music videos (like Michael Jackson's "Behind the Mask," in which he moonwalks disguised as the Gloved One), choreographed a Skrillex video, done work for an upcoming Dr. Dre TV series, performed in a Pitbull video, and toured across Asia. One particular trip stands out—a visit to Japan where he and his crew started dancing in a train station and made a serious impression. "We were doing a quick, 10-minute video, and I'm sure people had to get to work, but nobody moved," he says. "They watched us the whole time. When we were done, everybody started clapping. I didn't understand what they were saying, but we understood those claps."
EIGHTY-NINE: What's your favorite drink/snack when you're rehearsing?
ADEDAMOLA ORISAGBENI: Apple and pineapple juice mixed together, that's my favorite. And I like to snack on cupcakes; I'm vegan, so they've got to be vegan. Yummy Cupcakes has the best ones.
EIGHTY-NINE: What other workouts do you do to stay fit?
AO: I go to the park and do a lot of dips and push-ups, to keep up my strength and speed. I'm not going to lie: I should stretch more than I usually do. But since I'm naturally double jointed, I don't stretch like I'm supposed to.
EIGHTY-NINE: How do you warm up?
AO:I just start grooving.
EIGHTY-NINE: Is there anything that you can't dance without?
AO:I need to be comfortable: My pants should be a little loose, because I like to squat a lot. And I don't like my shirts to be too tight because I stretch my arms out a lot while I'm bone-breaking.
EIGHTY-NINE: What's your favorite dance moment in pop culture?
AO:It's a tie between Michael Jackson in the video for "Smooth Criminal" and the video for Busta Rhymes' "Put Your Hands Where My Eyes Can See." Those are the two that I watched and imagined myself in them. Like, "Yo, I've got to be dancing in this."
EIGHTY-NINE: What's your signature move?
AO:Probably when I point both my elbows to the front and rotate my neck. I'm known for that.
EIGHTY-NINE: What are your tips for someone who wants to start bone-breaking?
AO:Make sure it feels right. Some people are not born double-jointed, but you can stretch to be able to bone-break, almost like you'd stretch to do a split. There are natural bone-breakers who can do it whether they stretch or not; they can just wake up and bone-break.
EIGHTY-NINE: What's the question you get asked most often?
AO:"Does it hurt?" Then they rub their shoulders and start telling stories like, "Man, I dislocated my arm a few years back…" Especially older people. They be like, "Whoa. You're crazy, young man."
PLAYLIST
"High Roller"—Lil Uzi Vert
"Only U"—PARTYNEXTDOOR
"The Ends"—Travis Scott
"Touch It (Remix)"—Missy Elliott
"Panda"—Desiigner
"Young and Beautiful"—Lana Del Rey
"Starboy"—The Weeknd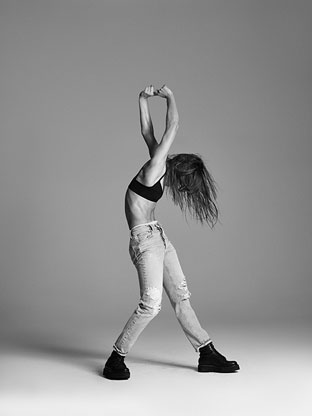 Martina Heimann
When Martina Heimann first started meeting people at U.S. dance battles, she felt a bit like an outsider. "I'd meet other dancers who'd say, 'I'm from Brooklyn, so we dance like this,' or 'I'm from LA, which means this.' I grew up in front of a huge blueberry forest in East Germany, a country that doesn't exist any more. The block of project buildings where I grew up doesn't exist any more. It all feels pretty weird."
Luckily, her odd-woman-out status hasn't affected her career. Her incredible, almost architectural dancing has been featured on videos like Kiesza's "Hideaway" and Justin Timberlake's "Mirrors," countless commercials, and on tour with the FLEXN crew. It's a life she could never have imagined growing up as a classically trained ballerina in Eastern Europe. "I went to a circus with my grandmother when I was 6 years old and saw the people tightrope-walking and 'dancing' on a horse. I wanted to dance, too, and since I was in East Germany, there was no breakdancing or hip-hop." She was accepted to a prestigious professional ballet school, where she stayed for eight years. "Then I took a totally big, huge U-turn," she says, laughing.
Heimann first saw breakdancers as a teenager, when she and other dancers from her school collaborated with them on a performance. "I saw this one popper doing waves and tutting and isolation," she says. "Then at 19, I was in a dance company and I was inspired to search for different styles: hip-hop, popping, locking." She attended a three-day workshop to learn the foundations of urban dance, and "got hooked." Heimann moved to Berlin to become a professional dancer, then decided to push herself out of her comfort zone: She traveled to L.A. and New York to improve her technique. "I went to a party called Soulgasm," she says, "and all the dancers—from breakers to poppers to lockers to house dancers to b-boys—were just practicing in this club. I thought, this is a place where I can really learn."
Since then, Heimann's established herself as a high-voltage popper and flexer, one who routinely wins battles and books gigs that showcase her outlandish talent. Occasionally, she's still pushed outside her comfort zone, but she knows how to make the best of it. "In battles, I'm always doing splits and floor work," she says, "but I was hired for one music video where my costume was huge platforms, long fingernails, and a pencil skirt. My challenge was to incorporate all these extra-feminine things into my style. But it was amazing, and I loved it. I made something out of it."
EIGHTY-NINE: What are your favorite snacks or drinks when you're dancing?
MARTINA HEIMANN:My favorites are raspberries and blueberries—I mean, I grew up next to a blueberry forest after all. Oh, and nuts like almonds and Brazil nuts.
EIGHTY-NINE: What other workouts do you do?
MH: I do yoga, and I really like it. But I can't repeat the same moves every time.
EIGHTY-NINE: How do you warm up?
MH: I run a little bit on the spot, then do my muscle contractions: push them in out, rotate, isolate, roll up and down, squat down a couple of times. And then I start.
EIGHTY-NINE: Is there something you can't dance without?
MH: Good underwear, to be honest. It needs to be comfortable—I don't want it moving around, and I want to be sure everything is covered.
EIGHTY-NINE:What's your favorite dance moment in pop culture?
MH: Because I was in boarding school from age 10 to age 19, I didn't really watch TV. And before that, East Germany didn't get much TV from the West, so I just played outside. I remember seeing Dirty Dancing and loving it; that was the first time I saw dancing on TV.
EIGHTY-NINE:What's your favorite part about being on tour?
MH: That I can be myself, and recreate my own stories.
EIGHTY-NINE: What's your advice for someone who wants to start flexing or bone-breaking?
MH: Go directly to Brooklyn, see the scene, and battle. The best way to learn is to be in it.
PLAYLIST
"Bubble up"—Busy Signal
"Fever"—Vybz Kartel
"Grimey"—Ward 21
"Murder"—T.O.K.
"Fade"—Kanye West feat. Post Malone & Ty Dolla $ign
"Way Back"—Travis Scott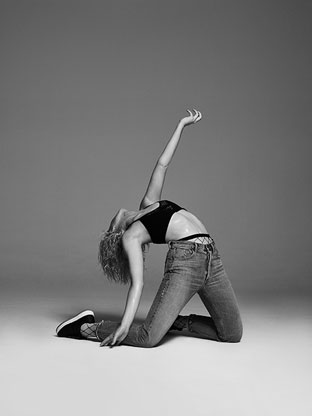 Madeline Riley
When she was four years old, Madaline Riley's parents put her into ballet classes. "My mom initiated it, but not because I was especially interested," she says. "It was more that my parents were trying to put me in something. I didn't really have a say. There was even a point where I didn't really like dance at all—I'd fake being sick to not go sometimes." At 16, her passion for the art form actually bloomed, but her enthusiasm wasn't directed at the classical techniques she'd been doing. "I was really inspired by hip-hop," she says. "I'd look up video tutorials on YouTube, like 'how to bone-break.' The first time I did it, I cried a little bit because it hurt so bad. I was just a curious girl with a laptop."
Her curiosity led Riley to seek out IRL classes for the styles she wanted to learn. And that helped her decide to move to L.A., where she settled a year ago after having grown up in Boston. The new location gave her an opportunity to expand her horizons, but it was a bumpy start. "At first it was really hard because I had been trained differently my whole life," she says. "I thought I sucked. But when I focused on doing what I love, and connecting with people that really inspire me, I started being noticed a little more." She's now a member of a popping group called Warrior's Crew New Era—a training ground for street dancers. And all of this, incidentally, happens alongside her more "proper" schooling; she's a sophomore at Loyola Marymount University. "My life is pretty much study all day, dance all night," she jokes.
Now 20, Riley's excited about what her future holds, but won't let herself forget the reason she made the leap in the first place. "Getting dance jobs and booking gigs aren't really why I dance. It's not about money, or jobs, or fame. I just want to show my interpretation of the music. I've connected with music from a very young age and I just want to express that." And having spent some time in the West Coast dance scene, she's certain of one thing: The need to trust your instincts. "If you think your style is dope, don't shy away from it just because it's different. Embrace it, grow within it, and make it something awesome."
EIGHTY-NINE: What are your favorite snacks/drinks when you're practicing?
MADALINE RILEY: Bananas and water. I'm vegan, so before class I usually eat fruit or trail mix.
EIGHTY-NINE: Are there other workouts you do to stay in shape?
MR: I like to run, but I don't really do any other workouts. I run once or twice a week, and maybe some sit-ups—if I'm feeling good that week.
EIGHTY-NINE: How do you warm up?
MR: Before I practice, I start off just grooving, at least for a few songs, just to feel the music. Then I'll do a bit of stretching. But it's mostly just grooves.
EIGHTY-NINE:Is there anything you can't dance without?
MR: No. [laughs] I dance everywhere, to all types of music.
EIGHTY-NINE:What's your favorite dance moment in pop culture?
MR: Is it bad that I don't know? I'm not really up to date on pop culture. I didn't watch much TV when Michael Jackson was around.
EIGHTY-NINE:What's your advice for people who want to try flexing or bone-breaking?
MR: Surround yourself with people who practice the style. You can look up stuff on YouTube, but it's more important to seek people out and practice a lot. And stretch.
PLAYLIST
"Kiss of Life"—Sade
"Summer's Over Interlude"—Drake
"Bag Lady"—Erykah Badu
"The World Is Yours"—Nas
"Till There Was You"—The Beatles
"And just about anything by Kaytranada, Hiatus Kaiyote, and Ploy."
—