When thinking about who to cast to model ASAP Ferg's Fall 2017 collection with AGOLDE, the trap lord was quick to suggest a few friends from Harlem. Enter Ben Jayne and Jonah Bush, two creatives who are making their way in the music and fashion worlds.
Name: Ben Jayne
Age: 24
Instagram: @BenJayne1
Where are you from?
I'm originally from Providence, Rhode Island. 
What's there to do in Rhode Island?
Probably go to Newport and see, like, the mansions and stuff.
What do you do?
I'm a music producer, but really I'm an artist, I do everything. I paint, I design clothes, and I do music. Music is what I'm focusing on now. I produce a lot of Marty Baller's music and have worked with ASAP Ferg.
How did you connect with Marty & Ferg?
I moved to Harlem in 2012, and I just linked up with them through friends in the neighborhood. Marty just took me in and talked to me.
Why did you move to Harlem?
Motivation was, like, Rhode Island was too small. Like they always said, anyone who wants to grow, you got to move from your hometown. Everything was telling me I got to just meet new people, grow as a person. I was 18 or 19.
Are there producers that you have looked up to over the years?
Kanye was always my favorite artist, and he sort of inspired me. But now I get my inspiration just from, like, my dreams, and like, feelings, and like, vibrations and colors, and I just feel this whole energy–that's where I get it from, the energies all going around.
When did you get into music?
My mom was an art teacher, so I painted a lot and drew all the time as a kid. I didn't get into music until I was, like, 12. I remember being in school and the kids would be, like, beat boxing on the table and stuff, doing the "Inspector Gadget" medley, and that made me want to look for theme songs on the TV and figure out how to rearrange and add drums. One of my teachers put FruityLoops on my computer and that got me started making beats.
Making it in music is obviously very difficult, and it's something a lot of people want to do. What keeps you motivated to work in this industry?
Just life. I play to the point where there's nothing else I want to do other than this, so I have to keep moving. Like, if I'm angry, I try to put that in the song, or use that energy to make something, or when I come up with an idea and I see someone else do it, I use that as like, I'm onto something. So, I just use everything around me, like, negative or positive, to just keep moving.
One day when you're much older and you've accomplished all you want to accomplish, what do you want to remember about this time of your life?
I want to remember that it was a climb; it was a struggle. I think what's always going to stick out to me about this is that it's like a double-edged sword–it's good and it's bad at the same time. You got to go through the storm to get to the castle, I'm in the storm now, so that's what I want to remember.
You know Ferg better than a lot of people, what's something about him everyone should know.
He's really creative. He paints and is just really artistic with how he approaches all of the art for his music. And he's very smart, and just organized.
Did you get a chance to look at Ferg's collection a little bit?
I liked the green army jackets, and my favorite was the jacket with the Sherpa lining. The wash on the jeans was cool too.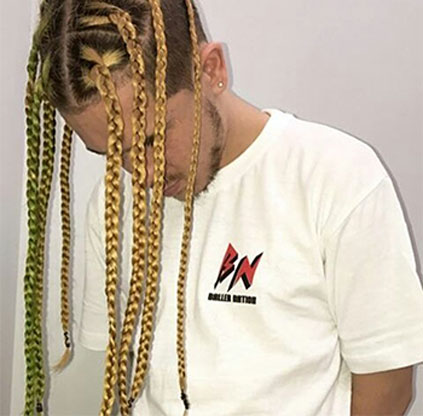 —
Name: Jonah Bush
Age: 17
Instagram: @jonah.zxc
How do you know ASAP Ferg?
When I was growing up in Harlem, he used to live a block away from me, but I never used to see him that much, but Marty Baller is like my brother.
Has Harlem changed over the years?
Definitely, there's a lot of gentrification. There's too many new buildings, too many new restaurants. There's a Baskin Robbins on Broadway. I never thought I'd see that, ever, in my neighborhood, like, on my block.
Where should people go if they want to experience the real Harlem while they still can?
The real Harlem? People might not want to experience that.
Are there any cool restaurants that have been here forever that are really good?
They're all closed down. There was a diner right here on 139th and Amsterdam, they closed that. They turned it to a store. There was another one around the other side, they turned it to a different restaurant.
Crazy. Do you make music too?
Yeah, I've been a producer for, like, three years now.
How'd you get into it?
Honestly, I think I've always had a flair for music, no matter what it was. I used to listen to everything from heavy metal to jazz, like all over the place.
Who are your favorite musicians?
Honestly, I don't really have favorites; it's just however I'm feeling at the moment. That's how I like to make my beats too, off of feelings. People nowadays think of beats based off how somebody else's beat sound. I know I want to start a new way for people.
How do you do that?
Well, first off, you don't care what people say. People used to criticize me for listening to metal music in elementary school and middle school.
It's about channeling my feelings. I'll put one pattern down, like a regular melody, and sometimes you have to sit there and listen to that same melody repeat over and over and over again, just so you can be like, "Okay, I think this sound will go good with it." Next thing you know, it's a beat. I feel like when I'm making a beat, it's like I black out, and when I come back, it's there. I'm just like, "How did I even do this?" 
You were listening to metal in elementary school?
Yeah, My mom is actually a rock fan, so she was like, "For real, this is cool," and she would always stay up at night and just play all types of music, and I would just be up with her, just listening all night.
When did you start making your own music?
When I as a sophomore in high school, I was watching a random video on YouTube, and then, you know how there's other videos at the bottom? So, I seen a video for FL Studio, FruityLoops, and I just pressed on it, and that was it. I was just like, "Wow, where's this software at, I need it right now."
Music is a hard industry to break into and be successful in. What motivates you to try?
I just think about where I started from, I had nothing. I didn't have a phone, I didn't have nothing. And I've always known, that you can go back to that point, you never know what could happen. So, that keeps me going. I feel like I can't stop no matter how much money a song makes, like, if, say I want to aim to make $50,000, like, I'm not just going to think, "Oh, I got $50,000, now I can just lounge back and not work," No, you got to keep going. I want to buy a house and just start a family and stuff. That's what I want to do.
What is something from growing up in Harlem that you'll always have with you?
Well, where I was growing up, I didn't go outside till I was like ten. From that point on, I used to see all kinds of stuff–people overdosing on drugs. I've seen a whole bunch of stuff, so my take from it is, I'm going to get out. I want to move, but you're never supposed to forget where you came from.
I guess that's what a lot of the artists do nowadays. They just blow up and leave. I'm not saying you have to come back and do something for the community, but it's like show it, take a picture and say "Shout out to my neighborhood, this is where I came from," at least something. That's what I would do, if I was in their shoes.
And what's the advice you hold onto most?
Never lose faith. You can do anything you put your mind to. Like, if you want to be a singer, you can be a singer. You just got to practice. It's like producing, you just got to practice.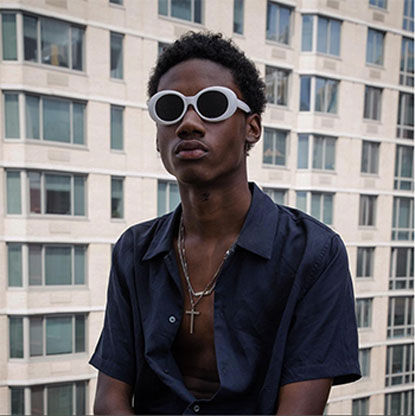 —