Name: Najeen
Age: 22
Nickname: Nay
Instagram: @najeeeeen
Where did you grow up?
I was born in Queens, but grew up in Binghamton.
What would you recommend someone to do if they were visiting Binghamton?
Go to this restaurant called Burger Monday's. I always get this blue cheese burger that they have. It's really good.
How did your modeling career begin?
I'm just getting started, I did a few fashion shows at Binghamton University, and then my boyfriend came along, and he kind of just pushed me so we've been going to castings together.
And you just shot the AGOLDE x ASAP Ferg Fall 2017 collection. Did you have a favorite piece?
I really liked the jacket, the green jacket with the links. I also loved the jean jacket with the Sherpa lining—it's so warm.
Was there a certain experience you had that made you want to pursue modeling?
Yeah. When I first did my fashion show–walking onstage and just having the spotlight on me, wearing different clothing–it was so much fun! My first photo shoot could have been better, but I was like, "Yeah, I definitely want to work in this."
Are there any models whose careers you admire?
I love Naomi Campbell. And one of my favorite pictures of all time is of Tyra Banks, she has this blazer and this hat on, and she just looks so comfortable in her skin, and it made me feel as though, like, I could do that too…
What would you like to accomplish as a model?
It honestly, it took me a while for me to get comfortable with myself. So, now I'd like to inspire other girls to be comfortable in their skin.
When I was in high school, I did cheer, and I didn't like my legs. They were so skinny, so little, but I had to go on the court with a skirt on. One of my best friends would just go, "Nay, you're beautiful, just go out there, you know?" I can't change who I am, so it was kind of like being thrown on the water and having to swim, basically.
What would be a dream modeling gig?
Shooting for Vogue, maybe even walk in the Victoria's Secret fashion show. I feel like modeling is something that I just have to do, you know? It makes me happy just thinking about it, I know I'm going to be there.
What do you think is the source of that optimism?
I don't really come from, like, you know, a wealthy family. We've been through things. I have a younger brother and younger sister, and I don't want them to just see those things. They look up to me so much, and I want to be able to show them that if you put your mind to something, you put your all into something, you can really do whatever you want. So, they're my inspiration. Binghamton is small, and a lot of my family are doing the same thing, you know, going to work, coming home, and it's just like, I had to break that.
Is that the message you hope to put out into the world?
Yes, just go for your dreams. Go ahead, and sometimes you just have to take chances. You really do. I'm taking the chance of not being employed right now to just go ahead and pursue modeling. It may not work out when I want it to, but it will. It definitely will…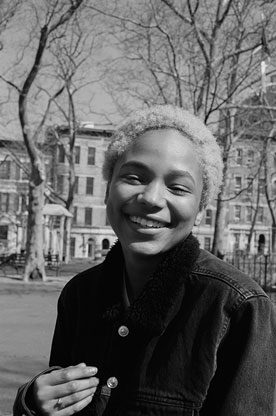 —
Name: Delly Ferg
Age: 18
Instagram: @theplayerdelly
So, you're Ferg's younger brother. How many years are you apart?
Ten, but my brother has always seen me in an older light. I was brought up around older people, so I learned how to maneuver myself.
What's the best advice he's ever given you?
Just to be cool. Say if you get upset, someone does something, and it's just like you can go off or just be cool. Be cool. Act like it's supposed to happen. My high school was really bad. It was in a bad neighborhood, so I'm used to arguing and fighting, and then when I graduated and came to the real world, it's not the same way. You've just got to be cool about every situation.
That's really good advice. You're so nice; it's hard to imagine you ever not being cool.
I try to not show a hard side because there's no need for it. There's no need to even have that kind of attitude around.
What's the funniest memory you have with Ferg?
There's a lot but probably when we went to Six Flags in Jersey, and how scared he was to get on a rollercoaster. After he got on one he was like, 'Nah. I'm staying on,' so he had us riding Superman five times.
Too funny. Are you in ASAP mob, too?
No one doesn't consider me not ASAP, but I don't have their sound or anything, so it's just like I'm putting myself out there differently.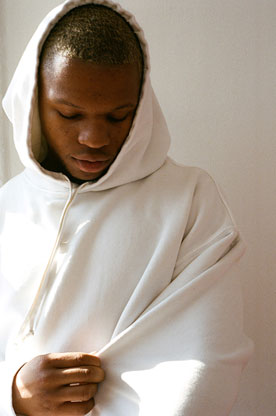 The ASAP guys have a lot of personal style. Did you pick up any style tips from the guys growing up with those guys?
Twelvyy has always been a big sneaker head, so Twelvyy's always made me realize the importance of having fresh kicks, and kicks you can just beat up. My brother definitely put me on to a lot of different places to shop. And I'm a little lean so I like looking at how Rocky dresses.
Did you grow up in Hungry Ham where Ferg grew up and where we're shooting today?
I grew up between Harlem, the Bronx, and upstate, like Fishkill, New York. I'm more so from Lenox. 144th and Lenox. The Bethune Towers. I grew up there. I went to school on 138th in Lenox, so that was my neighborhood.
Do you feel like Harlem has changed a lot since you were a kid? What do you think people need should know about it?
People need to know that Harlem is very diverse, it holds a different range of people, uptown you'll have the gangstas and the ball players, but then on 125th through 120th Street maybe even down to 115th, you'll have nothing but artsy people, and there's just an art culture there. It's such a small place that holds so many different types of people; it's really special.
And what are you doing now that you've wrapped up high school?
I go to Binghamton University, and I'm studying engineering and joined the dance team. I kind of lost my passion for dance a little bit though, I just like to freestyle instead of doing strict routines, and then I make music. I've liked being in dance because we have the Harlem Shake and groove and I also played instruments all growing up, so I've always been in the arts. Me doing music is just another capitalization on our background.
What's your music like?
I feel like the world has been so consumed by gangsta rap that people are just looking for that. I want to bring the fun back to music, and just get people dancing and vibing. I want to bring smiling back to rap. I could rap about being in the hood because I do live in the hood, but I just feel if the person I am can bring the fun side out of people, I should do that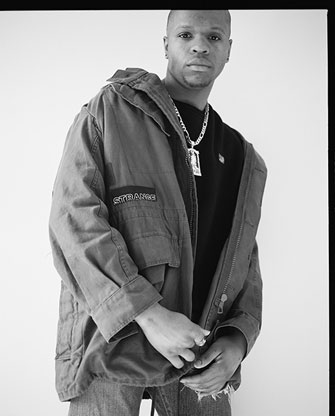 —