"I think a blues voice is just the voice I was given. I listen to soul, but not as much as I listen to more contemporary artists. At the end of the day, I am a 25-year-old man, so I don't want to sound exactly like Sam Cooke or Al Green. I want to make music that sounds like it was made by my generation."
Jacob Banks' emotive baritone pierces through the melodies underneath, while his allegorical lyrics tell the stories of someone well beyond his years. Yet however unintentional the throwback to the golden age of soul, Banks is filling the much-needed role of blues singer for a millennial audience, and after the release of two successful EPs—The Monologue (2013) and The Paradox (2015)—and touring with the likes of Alicia Keys and Emeli Sandé, Banks is ready to speak his truth anew by way of his latest EP, The Boy Who Cried Freedom, and his upcoming album, The Village, slated for release later this year.
His musical influences go some way to understanding the man behind the music. "Kanye West is a huge inspiration in terms of pushing and trying new things. D'Angelo too. I love John Mayer and Amy Winehouse; I am writing my album, and Amy approached her music in the same way—we basically just chat shit over beats," he laughs.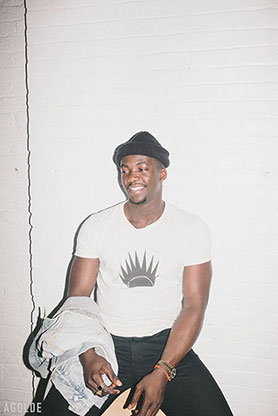 Despite his organic and simple process, a close listen reveals a number of crosscurrents in his music: the duality of his formative years spent in Nigeria (he lived there until he was 13) and his teenage years in the U.K., with an increasing amount of time lately being spent in the United States; the travails of his personal and romantic life; and a world full of political instability, all of which emerge in The Boy Who Cried Freedom. "I started working on it around when Trump got elected," Banks explains. "It felt like the world was in disarray and people were being punished for things that were out of their control. In turn, I found myself on the end of some strange microaggressions from people because of the color of my skin, so it's a real meditation on my personal life and what was going in the world. But at the end of the day it's me being the artist I want to be."
The opening track is the husky-voiced "Chainsmoking," which Banks somewhat surprisingly wrote while playing FIFA with a friend. "I was winning, naturally," he laughs. The song paints the picture of a love so toxic yet irresistible that it's akin to lighting up: "It's getting harder to breathe, chainsmoking your love can't be good for my sanity, can't be good for my lungs."
Another gem is the folksy, pared-back "Part Time Love," which at just under three minutes has you longing for more. "That is actually my favorite song of the EP," says Banks. "There are times when you listen to a song and wish you had written it. I am lucky enough that 'Part Time Love' is mine."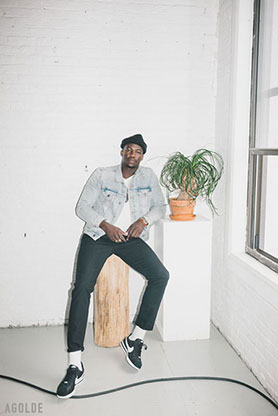 His musical journey started in earnest when he sang on stage at open -mic nights, winning numerous talent competitions and penning songs that even in the infancy of his career showcased his promise. In 2014 he became the first unsigned act ever to appear on BBC Radio 1's Live Lounge, following the likes of Florence and The Machine, Rihanna and Lana Del Rey. Now signed to Interscope Records, Banks is embarking on a short tour before finishing work on The Village. "The name is in reference to the proverb 'It takes a village to raise a child.' I have all of these places I've been brought up—born in Nigeria and now I am between the States and the U.K. All of these places have had a huge influence in molding my mind. What I am really trying to do with this album is stay away from the clichés. I want to stay rooted in my reality. I want it to sound like me."
—