Philip Ellis is one of the brightest young stars of British fashion design, having risen to the fore with a politically charged anti-Brexit degree show in 2016, while he was still a student at London's renowned Central Saint Martins school for art and design.
But Ellis, 24, was already making a splash on the scene for his unique modeling presence as well, cultivating what Berlin-based culture magazine Kaltblut tagged as a "hard-edge council estate [projects] boy vibe" and working with top fashion photographers, such as Nick Knight and Karl Slater.
Simultaneously, his work at the now-closed cult label Meadham Kirchhoff and more recently for the anonymous fashion collective Vetements enabled him to hone his singular usage of pattern cutting, layering and sloganeering. Ellis is currently spending time in Paris prior to returning to Saint Martins in the fall in pursuit of a master's degree in fashion. Here, the self-deprecating designer discusses the influence of his "strangely wholesome" upbringing close to the U.K.'s northern city of Manchester, his unquenchable thirst for knowledge and why he believes that now more than ever, fashion must speak out.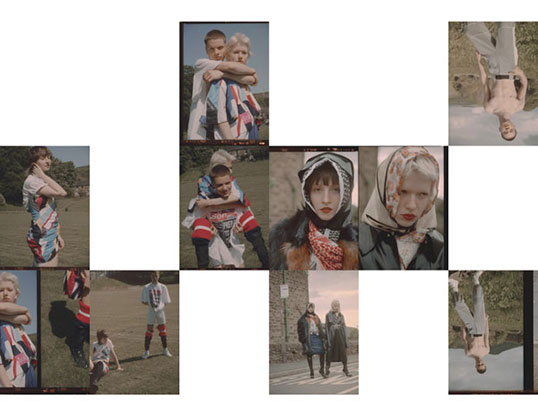 EIGHTY-NINE Where are you from?
PHILIP ELLIS I grew up in a village on the west border of the Peak District National Park called Chinley. Although traditionally a farming community, Chinley lies on the Manchester-Sheffield rail network, so it is now part of the commuter belt. My parents worked in Manchester's city center and I went to grammar school in the nearest large town. My childhood was sweet and on reflection strangely wholesome; my mother went to church, my dad rang the church bells and my brother and I sang in the local choir. By the time I was in my late teens I had befriended the local gang of misfits and we would spend our time trying our luck in the local pubs with a rainbow assortment of haircuts and inappropriate footwear; one friend regularly sported half a head of waist-length blue hair and silver Dr. Martens boots.
How have you drawn on your background in your life and work?
It has had a massive impact on my work and the aesthetic that I identify with. My graduate collection was heavily influenced by British subcultures and in part correlates to the dress code I adopted as a teenager.
How does London figure in your story? 
I'm currently living in Paris but was based in London for three years of my degree; I long to go back. My first experiences with the city came from a short-lived modeling career, unsuccessfully being sent to castings and on test shoots, so by the time I began my degree I knew it quite well. London's finest quality is its magnetism for incredible creative minds. I had aspirations of moving to London from an early age, and my cynical mother would always remind me this was probably due to the lack of opportunities in the north. That aside, London's success as a metaphoric seedbed is also probably key to organizations such as Fashion East and the support of the British Fashion Council in nurturing young talent, giving them advice and a platform to grow. I really believe that London is the city where young designers have a chance to flourish.
What have been your influences and what is currently inspiring you?
My influences are not very abstract. In fact they're often very literal. I love clothes, mainly those that other people wear. I'm influenced by them and people who I consider to be desirable. In the past I have been attracted to strong characters or strong visual identities from subcultures, but more recently I'm inspired by my past and my childhood. I think I've developed a warped nostalgia since leaving England!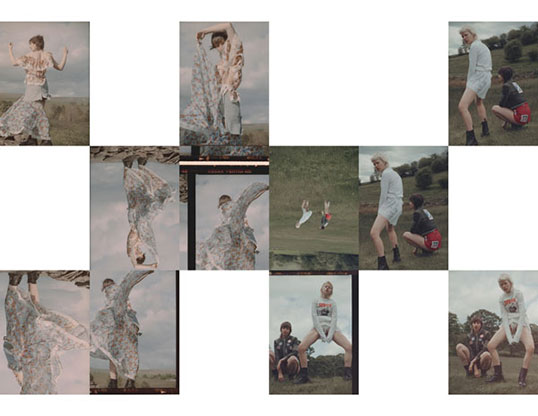 Describe your average day.
At the moment they're very erratic. The project I have recently been working on has gone from periods of being extremely busy to times of having nothing to do for weeks. On an average day I wake up late, sketch ideas, look at stores and museums and see my friends. It's all very bourgeois, but I'm more than aware that soon I'll be up at the crack of dawn every day working on new collections.
Describe your working process.
My working process is really rapid. I have quite a vivid imagination and will think of several complete fashion looks and then illustrate them. I like to think of pieces that will complement each other together, then work backwards to the individual garments.
In what ways do you collaborate?
I like to work and collaborate with friends. I'm fortunate to have surrounded myself with incredibly talented people with skills in various fields. For instance, when documenting my collection I've worked with photographers that I'm close with and know and have been shot by for years. The makeup artist I collaborated with on my collection is also a friend I worked with through casting.
Protest and oppositional approaches are clearly major elements of your work—has it ever been thus or are we living in times when speaking out is a necessary part of visual expression?
I never used to consider myself a political person and I am from a household where political agendas are considered private matters. I think having an oppositional approach is something I have developed as an adult. I have learned to speak out or to discuss and bring to attention important issues. I think we live in times where speaking out is a necessary part of visual expression, especially in fashion.
What are your plans for 2017/18?
I am currently in the process of applying to go back to school to study the master's at Central Saint Martins. I really feel the need to learn and improve my design capabilities.
—