"I'm interested in intimacy, and putting people in front of naked vulnerability, testing their own reactions toward what one might find uncomfortable or attractive or both."
Tali Lennox isn't like most of her twentysomething counterparts. She isn't about posting every minute detail of her life on Instagram, and she isn't all about instant gratification, nor is she after a fast rise to fame. Although she's spent the better half of the last decade in front of the camera and on the runway as a model for Burberry, Christopher Kane, Prada, and most recently in an ad campaign for Agent Provocateur, in recent years Lennox has been more selective about modeling jobs as she hones her skills as an artist. "The respectful way to go is to let it mature and focus on the work itself," says Lennox.
Lennox likes to post the occasional photo of her artwork or modeling. "I always call Instagram a curated illusion," she says. "It's a fine line with social media to not let it get too self-indulgent."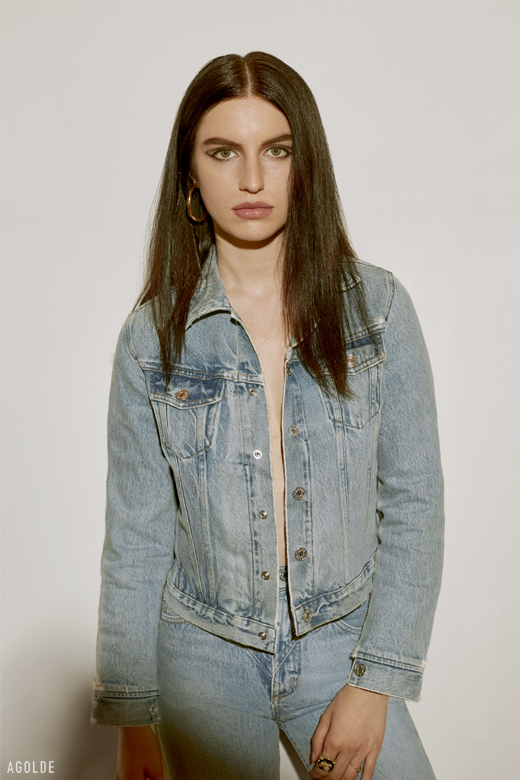 Lennox, the daughter of musician Annie Lennox and filmmaker and photographer Uri Fruchtmann, grew up in London in a home where she was surrounded by art books. "All she's ever encouraged me to do is keep exploring my creativity," says Lennox of her famous mom. "She always said she knew I'd be doing art, but she never pushed it on me or told me that."
The younger Lennox had creative inclinations at an early age when she drew outfits for the Spice Girls. She picked up a paintbrush about five years ago and began experimenting, teaching herself to paint. In 2015 she had an exhibition of self-portraits at Catherine Ahnell Gallery after its namesake did a studio visit and offered her a show. Then at the end of 2016, she had a one-night exhibition at the Chelsea Hotel, where she showcased an exploration of ghosts through paintings of people who were no longer alive, often with no eyes or faces.
That body of work was, as Lennox puts it, "a contemplation of the fogged windows between life and death and the separation of time that faintly lives through memory" that came after the tragic accidental drowning death in August 2015 of Lennox's then-boyfriend, model and photographer Ian Jones. "Me and him, we lived together, we shared our lives together, and then he wasn't there anymore, so I lived alone by myself in New York for two years after that, and it was part of what I had," says Lennox. "It was like a lifeline, which was so lucky, painting and making art, such a relationship with oneself. It's a beautiful thing if you can self-heal."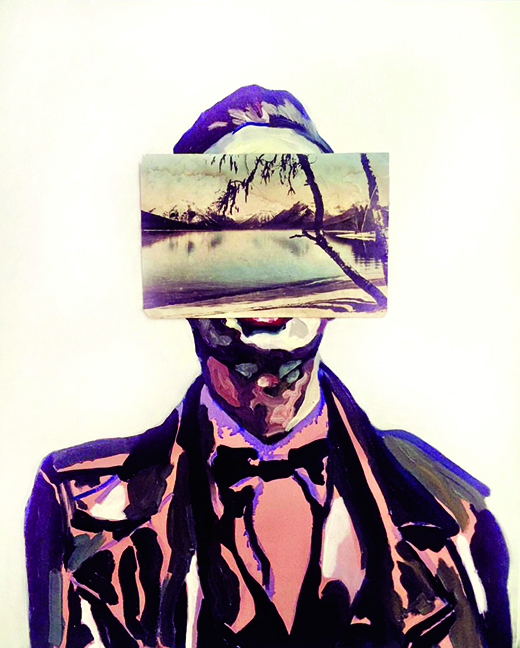 These days, Lennox is bicoastal, traveling back and forth between Los Angeles, where she shares a Japanese-style treehouse in Silver Lake with three friends, and her Tribeca apartment in New York. She still models occasionally, and she even starred in BØRNS' video for "Fender."
"Garrett is someone who lives in a world of imagination, and as a fellow artist to share a language of creativity with him has been beautifully mind bending," says Lennox. "I think it's important to explore all mediums of expression—acting, painting, making videos—so to collaborate deepens one's sense of artistic possibilities."
On the days where she doesn't have other work, Lennox devotes a lot of her time to painting in solitude. Her latest body of work involves female nudes. Lennox usually takes the time to get to know her subjects before painting their portraits. "I'm interested in sexuality, I'm interested in intimacy, and putting people in front of naked vulnerability, testing their own reactions toward what one might find uncomfortable or attractive or both," says Lennox, because she can relate. "Right now I'm painting nude young women; because I am a young woman myself, I can feel them more closely. Being a young woman is a beautiful place of discovery, but also fragility and projections. Confusion of one's own strengths and suppression. I want to honor female sensitivity in my work." Lennox's paintings aren't pretty, but rather raw and vulnerable.  "To me clothes just covering what's underneath," she says. "And when you get to the nude itself, that's still skin, and that's why I find the idea of blood interesting. It's even more internal."
When asked which female artists she admires, she immediately cites Tracey Emin. "I remember reading her book when I was 16, and it meant so much to me at the time just because of how honest she was about who she is," recounts Lennox. "The things she's been through and how fragile and vulnerable she is and seeing herself vulnerable through her work."
Lennox has no strategy on how to invade the art world aside from knowing that she wants to do more experiential exhibitions. Right now, it's all about putting in the work. "It's a judgmental place," says Lennox. "I have a well-known mom, I've been modeling, and I'm a girl. That's already three things I'm very aware I'll be judged for, so it's really a personal choice for me to let go of that and to let go of being self-conscious."
The young artist is in no hurry to find art-world stardom, and is content with taking it slow and letting her work speak for itself. "I'd like to be at the height of my career in 10 to 15 years. That's what I really respect [about the art world]. I like that it values perseverance."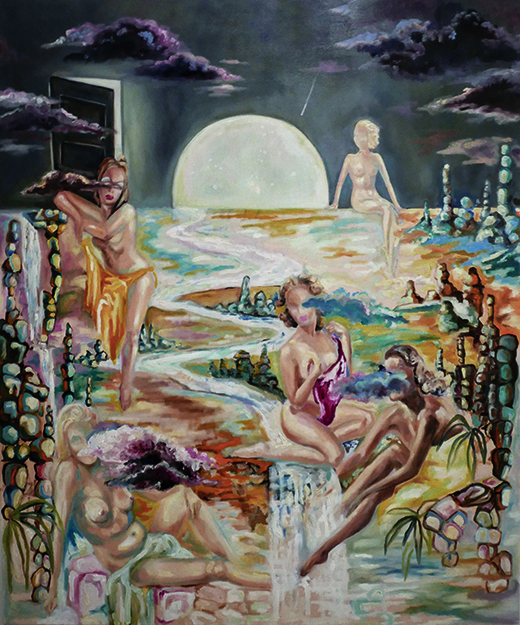 —