While the rest of America spent Independence Day in a sea of red, white and blue, Jesse Jo Stark spent her Fourth of July some 5,000 miles away—in Prague. "I'm opening up for Guns N' Roses. I don't know how many people exactly but it is at a stadium. I'm very nervous but I'm really excited," explains Jesse from the car as her band laughs and jokes in the background.
A true creative polymath, Jesse has seamlessly integrated a career between the worlds of fashion and music, with the success of someone far beyond her 26 years. For a start, there's Chrome Hearts—the luxury jewelry, accessories and leather brand started by her parents, Richard and Laurie Lynn Stark, in 1988—which Jesse has designed for since she was in her teens. Since the label's inception, it has outfitted everyone from the Rolling Stones to designer Karl Lagerfeld and just wrapped on a collaboration with model and Jesse's BFF Bella Hadid. Chrome Hearts is a bastion of Los Angeles style as well as a quintessential component of a laid-back rock 'n roll aesthetic, with Jesse Jo at its forefront, playing into her own unique style. Myspace babies of the early '00s will remember Jesse as a frequent face of Mark "The Cobrasnake" Hunter's popular paparazzi style site, chronicling the who's who of the L.A. hipster scene. At the height of fame as Mark's muse, Jesse also collaborated with Vans on a tight edit of sneakers, tees and accessories. There was a blink-and-you'll-miss-it turn as Pam in Palo Alto, directed by her friend Gia Coppola, though she insists, "I'm not trying to act. I did one acting part because my friend asked me to. I believe in taking those opportunities and growing from them, but it's never like I woke up one day and was like 'I'm going to act today,' but music, I've always wanted to do."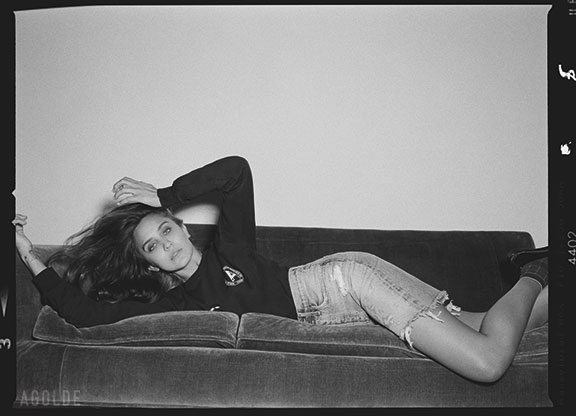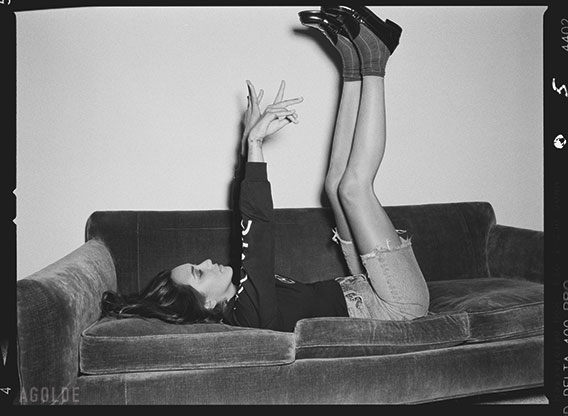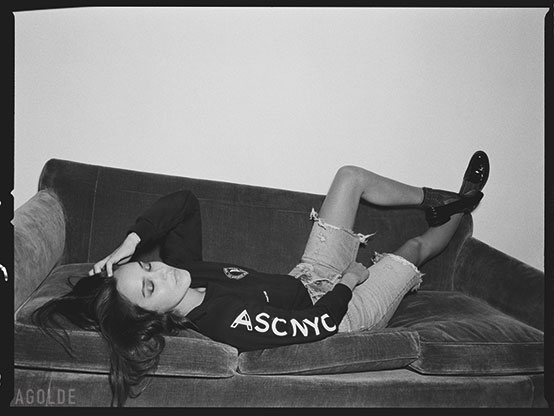 Born in the secluded area of Malibu, Jesse describes the community as "tight-knit." "Everybody pretty much knew everything about everybody." As a child, she dabbled in horse-riding and dance lessons and acting, as she looked for ways to navigate the world around her. "I was going through it when I was younger, trying to figure out who I was and stuff, like any other kid. But I definitely think I'm a late bloomer in a lot of ways." Music always acted as an outlet, and Jesse began taking vocal lessons, guitar and violin at the age of 10, though she didn't start sharing her music until much later. "I got a lot of it from my dad," she explains when talking of her love of music. "Like everyone at that age, I listened to the Spice Girls and Britney Spears. Then it wasn't until later that I started being influenced by the punk, rock 'n roll and country that my dad had played for me in the car on the way to school… it's what set me off."
Luckily Jesse had musical legends to call upon for help and guidance. Her godmother is Cher, and when it came to working on her EP, Down Your Drain, in 2014, Jesse called upon her family friend Steve Jones from the Sex Pistols for advice. "I grew up around him. I played with them a lot, and they always gave me their critique and guidance. Steve just came to my show one day and was like, 'I liked your set, but I think this song could be better.' He's always been honest with me, he doesn't butter it up at all. He was like ''Silver Kissed' needs to be better.' Then I was like, 'Ok then, well why don't you make it better?' And so we kind of had a laugh, then he actually took me seriously enough to take me to the studio and put time into my work. It was an amazing experience. I did know him, but it wasn't until he knew that I was ready that he wanted to put in work with me, you know?"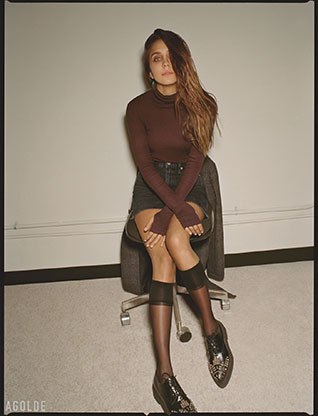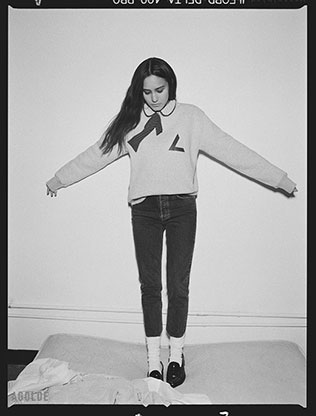 The result is a blend of all the music influences she listened to in her youth (Rock, Punk, Country, Blues), with the stories of her own personal narrative made more forceful through her haunting and ethereal vocal. "I want to put my own twist on all the music that inspires me. I live in the now, I didn't live back then, so you have to have some sort of modern twist, otherwise you're just going down memory lane. But of course, I pull references and hope that I can give the same feeling that they gave to me."
Jesse puts just as much thought into the accompanying visuals as she does into her sonic delivery. For her newly released single 'April Flowers,' a song about the inevitable hard work that goes into love, it took a chance meeting with director Chuck Grant (sister of Lana Del Rey) to bring her references to life. "It was just about meeting the right director, and when Chuck came into my life, she was so busy—I said I'd wait because I felt like she didn't take anything and try to hold it back. She took my ideas and ran with them, and actually made them even bigger! 'April Flowers' is such an important song for me and it was a turning point. The lyrics mean so much to me, so to see that come to life and have a visual backing, that was beautiful for me." Shot on Super 8, the video is a perfect mix of heady nostalgia and pop culture iconography.
Despite the sort of innate coolness, Jesse possesses, she insists she really is a homebody at heart. After years in Venice, she now calls Santa Monica home and spends rare days off, "chilling with my dogs. I love cooking, arts and crafts. I just pretty much like to be in my house, or go to the beach and being with my family!" She still works with her parents, whom she calls her idols, on a regular basis, designing for Chrome Hearts, though she admits there isn't as much time as her music takes off. "In the future, I would love to collaborate with Jack White, Lukas Nelson or Willie, that would be cool! I don't know. I'm trying to work with Mike Ness. It would be cool to work with someone who does the opposite of what I do but for right now, I just hope I can tour, hopefully do some festivals and put out more songs and share my music with more people."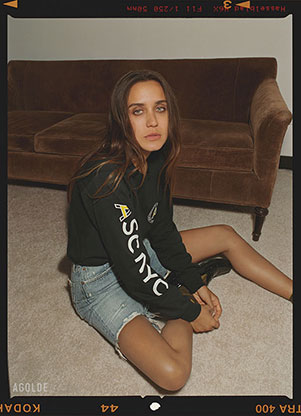 —