When Genieve Figgis joined Twitter from her home in Ireland in 2010, she could not have known how dramatically it would change her career trajectory. Unwittingly, she followed a New York artist by the name of Richard Prince. "I was only new to Twitter. I wasn't sure what I was going to use it for," Figgis recalls. "No idea who my audience would be at all. I had seen Richard's name and followed him because I liked his work."
After completing her MFA at Dublin's National College of Art and Design in 2012, Figgis began uploading images of her haunting paintings—which meld together figurative and abstract elements—on Twitter, Instagram and Facebook. Prince took note and became her fairy godfather of sorts. "He followed me back and I thought that was nice, but when I started posting he asked could he buy one from me. I was delighted, of course, but I had no idea what that would mean."
Using the internet to connect with the United States and Europe was a natural choice for Figgis. "All my work was influenced by American and European artists," she says. "It just felt that I needed to connect with the world, and the internet made perfect sense to me."
The move would propel Figgis onto the radar of the New York art scene, and in the summer of 2014 she would go on to make her U.S. debut at Harper's Books in East Hampton. "Harper Levine from Harper's Books asked would I like to show my work in his rare book and gallery space. I had been dreaming of going back to America for over 20 years. It felt like a dream come true, and I was super excited."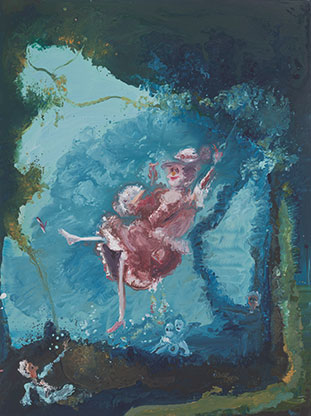 The fortysomething painter always knew she wanted to be an artist. "I have always known," she says. "It wasn't a decision I made. I was always coloring and drawing when I was a kid, and I loved art. It just feels comfortable and right." Despite that, Figgis's route to art stardom was unconventional, to say the least.
Aside from launching a career in a way that could only be done in the digital age, Figgis put family before work, choosing to have kids before heading to art school. "Yes I was a young mom, but that only meant that I really appreciated my second chance of going to art college and doing what I always wanted to do," she says.
Figgis's first New York City show came in the fall of 2014 at Half Gallery, thanks to art dealer Bill Powers. New York Times critic Roberta Smith called Figgis's small acrylic paintings "nastily entertaining pieces of work." Her swirly, ghoulish creations referenced masters like Jean-Honoré Fragonard, whose fanciful Rococo masterpiece "The Swing" influenced Figgis's "The Swing after Fragonard," which turned the pink subject of the original into a cloudy haze.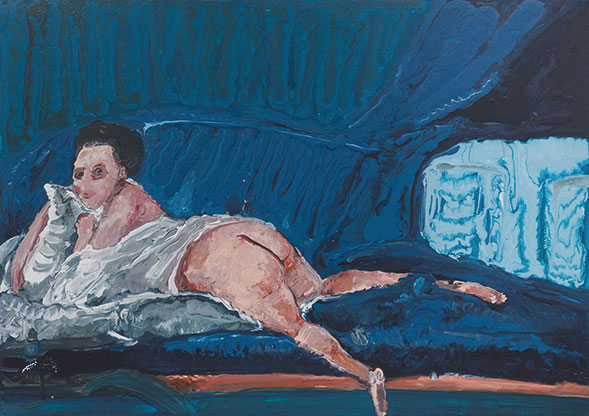 Although Figgis currently paints out of her studio in County Wicklow, she doesn't dismiss the idea of moving to one of the world's art capitals someday. "I'm up for all the adventures life can give me," she says.
Figgis imbues her pieces with references from history, art history and her surroundings in Ireland, with echoes of everyone from Edvard Munch to Karen Kilimnik baked in. While the work is figurative in nature, Figgis distorts and blurs out the features of her subjects, turning them into almost ghostlike figures. "I'm not that concerned with achieving likeness or flattering anyone's idea of what they think they look like," says Figgis. "That interferes with the process and my own personal enjoyment. Art is a completely selfish act. I don't aim to please anyone, but if people understand what I am trying to do and like the result, that makes me happy."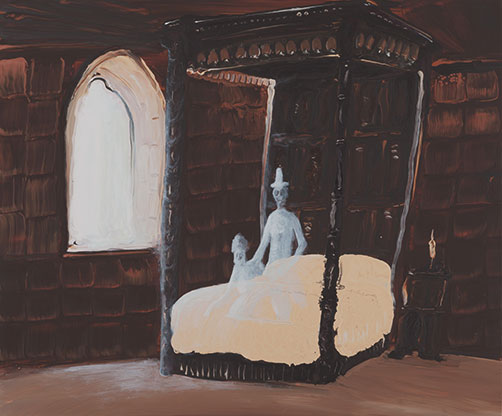 Despite the facts about the gender gap in the art world—in 2014, only 14 percent of solo shows at the Guggenheim featured female artists, while at the Whitney, 29 percent of solo exhibitions in the last decade went to women—Figgis insists that it's all spin. "Women need to stop worrying about what you call 'male counterparts,' " she says. "I never paid any attention to that spin. It was men who launched my career. Richard Prince, Harper Levine and Bill Powers. Those men were not afraid of giving a woman a chance."
If you're wondering if Figgis ever met her art-world fairy godfather, the answer is yes: "I finally met Richard in September 2014, when I had my Good Morning, Midnight show at Half Gallery in New York. Richard had been representing my work at Fulton Ryder up to then. He had my work hanging in his gallery and bookstore. I felt so appreciated and completely grateful for the support. It means so much when someone believes in you."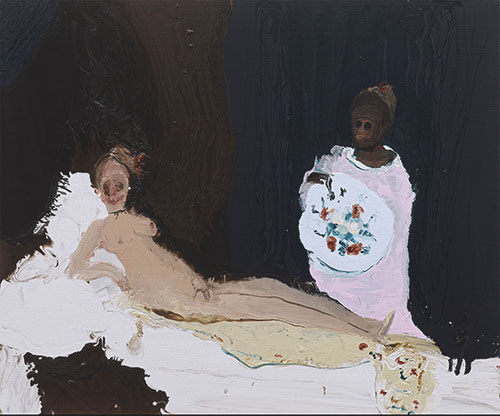 —